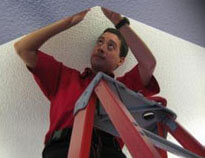 About Lighting Repair and Installation
Adding lighting is a great way to accentuate important features of your home or yard while adding security and value to your home. If you have a certain atmosphere in mind, we will be more than happy to help you make it happen. Is there a certain part of your garden that you want lit up? Maybe you need to add garage lighting to your work space? Are there dark areas that need safety lighting? Do you have water effects to show off? What about your backyard? Beautify it with new landscape lighting. Can't see when you cook? Add new kitchen lighting. We can help you light your home, your yard and everything in between.
Lighting is one of the best ways to add interest and drama to a room, from bedroom lighting to bathroom lighting. We have found that one of the most efficient methods to update a home or room is by adding ceiling light fixtures or changing home lighting.
Call us today and have one of our experienced technicians show you how we can create a lighting design for you that will not only highlight those special garden or architectural areas, but secure you against unwanted intrusions.
Types of Lighting
Lighting Repair and Installation FAQs
What is a lighting control system?
What is interior lighting?
What is exterior lighting?
What types of light bulbs should I use in my home?
What is a lighting control system?
Lighting control systems are one of the fastest growing home technologies. Through the use of dimmers, switches and control panels, a lighting control system will allow you to design with light, set a mood, control appliances, multimedia devices, save energy, provide security, and most of all, improve your lifestyle, by providing you with total lighting control at the touch of a button.

Let Elcon Electric show you how an energy-efficient Lutron Lighting Control System can turn lights on and off from your vehicle or night stand.
Home lighting control systems have become much more affordable and easier to use. So whether you are remodeling your existing home or building a new one, call Elcon Electric today to discuss all of your home lighting needs, from dining room lighting to exterior lighting.

For a complete list of electrical services available from Elcon Electric visit our services page.
Outdoor lighting will provide security for your home or office. Whether you are looking to showcase your home, highlight focal points or secure your property with motion detectors and dusk to dawn lighting, we provide and install it all.

Security lighting is one of the most pro-active and effective ways to prevent crime in or around your property. In fact, statistics show that less crime occurs in well lit areas.
What types of light bulbs should I use in my home?
HGTV.com gives a good overview of the different types of light bulbs and their uses.

There are five basic light bulbs, incandescent, halogen, fluorescent, compact fluorescent bulbs, and LED.

The incandescent light bulb is one of the most commonly used. It usually give off more of a warm light. These bulbs are usually the cheapest but not as energy efficient as others.

A variation of incandescent bulbs, halogen bulbs can give the closest light to natural daylight. These bulbs are a little more energy efficient than incandescent bulbs but are more expensive and can burn if touched by hand.

Fluorescent light bulbs are used to light large areas. These bulbs have many different types from warm to cool and even have colored bulbs.

Compact florescent bulbs, or CFLs, last ten times longer than incandescent and tend to be cheaper. These bulbs are also more energy efficient and can be recycled when they burn out.

LED lighting is a long-lasting and energy efficient technology but cannot replace other bulbs just yet. This lighting solution is more for directional lighting and not room lighting. LED lighting comes clustered together and in LED light fixtures to overcome this but can be five to six time more expensive than CFL bulbs.
Lighting Repair and Installation Reviews
"Technician was extremely professional. Changed out all outlets per the workorder, ran my credit card and then asked me if I had any further electrical questions he could answer. I ended up asking several about some recessed lighting, including replacing the bulbs. He assisted me with replacing the bulbs which included actually removing them from the ceiling by ladder. He went above and beyond and didn't charge me any additional money. I was extremely impressed with this company and would use them again in a heartbeat. Not all companies assist so willingly after they've been paid. Well done folks. Thank you for the wonderful exemplary customer service."
– Bebe Acosta
Tel: (800) 446-8915
Fax: (954) 867-7139
Monday - Friday
8 am to 5 pm
Your South Florida Electrician Since 1989
Licensed Electrical Contractor, License: #EC0001331

Lighting Repair and Installation Coupons
Lighting News Articles
Best Light Brands