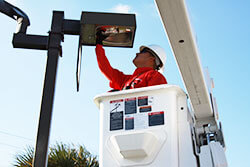 About Parking Lot Lighting Repair Services
Our bucket truck reduces your exterior lighting maintenance costs.
If your business has parking lot lighting or other outside lighting, you may not be sure if all your lights are on every night. Burned out lights can be a safety issue as well as hurt your company's image. Our "Night Owl" lighting surveillance is provided at NO CHARGE to:
Property Managers – Car Dealerships – Office Buildings – Retail & Restaurants – Industrial Complexes – Home Owners Associations – Facilities Managers
While you're sleeping, our Night Owl team will periodically check your parking lot and other exterior lighting to make sure that all your lights are coming on as intended and working properly.
Our electricians specialize in LED parking lot lights and exterior lighting maintenance work such as:
Light pole repair (up to 40′ heights)
Inspection & replacement of lamps
Ballast replacement & repair
Time Clock adjustments, programming & repair
Fixture/Lens replacement & repair
24/7 Emergency electrical service
Night Owl program is not available for public or utility-owned light poles (Example: FPL)
If you already know that your exterior lighting is in need of maintenance or repairs, give us a call for a highly competitive quote. If you're wondering about whether your lighting is working 100% at night, ask us to check it for you with our Free Night Owl service.
Parking Lot Lighting Repair Services FAQs
How can Elcon Electric save my business money with parking lot lighting?
How can Elcon Electric save my business money with parking lot lighting?
Elcon Electric saves you money by charging fixed prices for lamp and ballast replacements. We have suppliers and vendors that can get the hard to find items fast, so you can get the lights back on. From parking lot poles to wall mounted fixtures we can service and repair any elevated lighting fixture. For other lighting issues, we are able to offer you extremely competitive pricing because we own our bucket truck (for reaching the tops of light poles) and do this type of work in high volume.
Parking Lot Lighting Repair Services Reviews
"I want to compliment your company and your employees on the excellent job they have done at the Boca Resort projects. Your team has gone above and beyond to meet our difficult project milestones. I look forward working with you on future projects." – Brad Wilson
Tel: (800) 446-8915
Fax: (954) 867-7139
Monday - Friday
8 am to 5 pm
Your South Florida Electrician Since 1989
Licensed Electrical Contractor, License: #EC0001331

Parking Lot Lighting Repair Services Coupons
Parking Lot Lighting News Articles