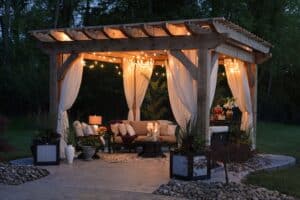 When the weather is great in the summer, what could be better than a get-together with loved ones in the backyard? Hanging outdoor string lights is a great way to give your backyard the atmosphere you've always wanted.
Without prior experience, this could prove difficult. It might be challenging to determine how many lights are required, where they should be hung, what kind of lights should be purchased, and how many should be bought. The effect will depend on whatever you have available to attach lights to.
Wondering where to start from? Not a problem. In today's article, we will take a look at a few tips to help you decorate your backyard patio with string lights.
Steps To Hanging String Lights On Your Patio
1.     Choose The Right String Light For Your Patio
If you want to hang patio lights for a long time, it's very important to choose high-quality bulbs and strings that are made to last and still look great after a long time outside. Below are a few pointers to consider when choosing string lights for outdoor use:
Choose light bulbs that you can take off the string. This makes it easy to change the bulbs if you need to and lets you change the colors or themes if you want to.
If you can, choose bulbs that won't break instead of ones made of glass, especially if you live in a place where the weather changes often or there are strong storms.
LED lights are superior to incandescent lamps for use in the garden and on the patio because they last far longer, consume significantly less energy, and are safe to touch.
Lighting a huge area? Outdoor string lights with suspending brackets are a great option. Each lamp has a machine-cut hole in a rubber support bar that serves as a hanging grommet. Support wires (also known as guy or guide wires) can be strung through these openings to help carry the load.
2.     Next, Assess the Room Size
Taking careful measurements is the first step toward a successful patio lighting layout. You should sketch the location where you intend to hang the lights and include the relevant dimensions on the sketch for easy reference. You can use this diagram as a guide when deciding on a hanging design.
To avoid having fully stretched lights when hanging them, add roughly 2 – 5 feet to each measurement after you take them. They should drape casually over your patio in a smooth, rounded fashion.
3.     Choose How You Want To Hang Your Patio Lights
To build the perfect set of patio lights for your garden, study the work of the experts. It is not uncommon to see patio lights of various styles and patterns in public places including plazas, event venues, and restaurants.
You can suspend your outdoor string lights in one of six common ways. There are many different types of patterns, such as the parallel, square, or grid pattern, the V pattern, the zigzag pattern, the horizontal point pattern, and the tent or Maypole pattern. Parallel and V-shaped approaches are likely the simplest ones to implement. Just pick one and have fun decorating.
That's it! Now you're well on your way to creating a uniquely designed patio using string lights. Do you have questions regarding hanging patio lights, or a helpful idea for installing patio lights, that you'd like to share? Contact us with any questions!