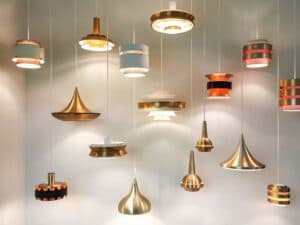 Have you put enough thought into the finishing touches on your new home, office, or house/workspace remodeling project? You must consider everything that goes into these spaces to the minutest details.
If you have a spacious living room or great floor-to-ceiling office space but lack the proper ceiling lights fixture to adequately illuminate them, you might end up underutilizing these spaces.
Flush and semi-flush mount lighting fixtures are examples of ceiling light fixtures you can use to properly illuminate your home or workspace. At the end of this article, you will have a better understanding of the similarities and different purposes of these light fixtures.
What Is Flush Mount Lighting?
Flush lighting is mounted tightly to the ceiling (or wall). Most times, people use this lighting fixture in rooms with low ceilings to create more space between the ceiling and the floor and avoid mistakenly hitting the ceiling lights fixture. Flush lighting also performs decorative functions, especially when you choose flush mount fixtures that blend with other items/parts of your space.
What is Semi-flush Mount Lighting?
Semi flush lighting is similar to flush lighting but is slightly different in that it is not directly attached to the ceiling. This lighting fixture type is suspended, thus leaving little space between the ceiling and the mounted light.  Semi flush ceiling lights also serve aesthetic functions and there are many designs you can choose to match your space décor.
What Is The Difference Between Flush And Semi-Flush Lighting?
Space allowance: Flush lighting gives the impression that you have more space, especially in a space with a low ceiling, while semi-flush lighting is best used in a room with a normal or generous ceiling-to-floor space allowance.
Illumination: Semi flush light fixtures tend to provide more illumination in any space because they are suspended and bounce light in different directions. However, illumination by flush lighting can be limited in a big space, especially if the bulb wattage is too low for the space.
Room type: Semi flush lighting is a better option for rooms with higher ceilings and occasional human activities, such as the dining room, while flush lighting can fit into any room.
Aesthetic experience: Design-wise, semi flush lighting has numerous options you can easily choose from, while you might need to take your time selecting a flush lighting design that fits your space décor.
Which One Should You Choose?
You're probably wondering which is better, flush or semi-flush lighting. Before you purchase either, consider the following:
The purpose of the room you'll be installing the light fixture and how much illumination you'll need.
The ceiling-to-floor height, and select the fixture that makes allowance for height difference for people who will use the space.
If the ceiling-to-floor height isn't a problem, choose either a flush or semi-flush lighting fixture that fits your décor taste and style.
If you are not a professional electrician, you should hire an electrician near you to help you to install the ceiling lights fixture you choose because they will know what to do, and the exact tools to use. An electrical contractor at Elcon Electric will also be able to provide you with additional help such as helping you pick appropriate lighting fixtures for each room.