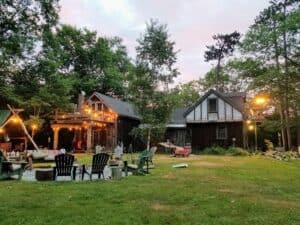 When the weather is nice, people tend to spend more time outdoors doing things like barbecuing, eating meals outside on their decks and porches, and just generally enjoying being in the great outdoors.
A few well-placed lights can make all the difference, whether you're having a party during the day, showing off the scenery at night, or just wanting to make sure your guests are safe. Here are all the lighting options you'll need to make your backyard the ideal hangout spot at any time of day or night.
You Can Light Up Any Space Using String Lights
String lights are a simple way to make a soft, relaxing light. Whether you're making a romantic dinner for two outside or throwing a big party, these shiny strands will help you get the look you want.
For small gatherings, line the edge of a patio or balcony with a single strand to keep things simple. This soft lighting solution keeps things from getting in the way while putting all the attention on your delicious home-cooked meal.
For a big barbecue in a big backyard, hang several strands in pairs from the ceiling. To do this, use telescoping light poles or hang the lights from trees to make the landscape part of the design. Don't give up on this idea just because it's raining. Hang string lights under an awning to make do.
Want to put all the light in one place? String lights could be attached to a patio umbrella.
Put Lamps All Over The Place
Do you wish that your lighting options were more flexible? Putting one or two lanterns on a table adjacent to a wicker sofa might give the room a new feel. They give off a warm light, perfect for unwinding on an alone evening or using as supplemental lighting when reading.
Then you can experiment with hurricane lamps or lanterns. Arrange them all throughout the backyard so that they serve as landmarks on the way to the pool or the outdoor bar.
You can also use floor lanterns if you choose. Place them near the door or in a dark nook of the deck with taper candles to provide ambiance. But here's the best part: Daylight hurricanes and lanterns are a nice touch for any room. They add a touch of class and timeless beauty to your patio.
Deck the Yard with Candles
When the weather is nice, candlelight is the best choice for an evening outside. You may put them in a lantern at the patio entrance or in a small glass holder, and either way they'll add to the atmosphere. When you get home from a hard day, burn a scented candle on the veranda to help you unwind, or use a candelabra to set the mood for a formal outdoor dinner.
Installing a string of path lights down your walkway is a great way to ensure the safety of your family and guests.
Trying to think of a unique method to light up a path? Solar stake lights are an easy option because they always shine when needed and never need to be moved. You can also put candles in ceramic holders along your walkway so that they give you a tasteful, understated appearance.
We hope you find these tips helpful when next you think about decorating your backyard!