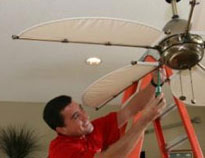 About Ceiling Fan Installation
Ceiling fans will make a significant difference in your home's climate (both cooling and heating), at a far lower cost and operating expense than almost any other item. Experts say a ceiling fan can save up to 40% on your summer cooling cost and up to 10% during the winter.
Installing ceiling fans is a job suited for a professional electrician, since careful tuning and installation will give you the best results with your fan. Get the most from your investment when we properly install your ceiling fan for optimal function.
We check the blade clearance not only to protect your ceiling, but also to get the most air movement from your ceiling fan.
Make sure you have adequate power to the junction box. It's very important to make sure that you have the appropriate electrical service to accommodate your new ceiling fan.
Install the ceiling fan box if needed.
Securely mount the fan. One of the biggest mistakes made with installing fans is using inappropriate mounting hardware. Failed mounting can result in injury to property or family members.
Assemble the fan.
Install the down rod.
Install decorative ceiling cover. The installation process sometimes requires mounting a new fixture, which needs covering to retain the aesthetic appeal of a room.
Make sure all wiring conforms to the National Electrical Code. As professional electricians, we're well aware of the electrical standards that your ceiling fan must meet.
When it comes to getting the best value in your air conditioning needs, let us set up your ceiling fan correctly the first time. By the time we're done, you'll have a money saving ceiling fan that is properly and securely installed to keep you a little cooler in the summer and warmer in the winter. To get a free quote, call us today!
Elcon Electric service vans have a standard line of inventory for your ceiling fan needs.
Ceiling Fan Installation FAQs
How can I make my home feel cooler?
Can I save energy by using a ceiling fan?
Can I use an indoor ceiling fan outdoors?
How can I make my home feel cooler?
Installing a ceiling fan creates the same effect as a breeze in the summer. With a ceiling fan light kit you can keep cool and bring light into any room. It helps cool the room a couple degrees making it more comfortable to be in. The blades should be blowing air down on people. If you look up at the fan from below the blades should be rotating in a counter-clockwise motion with the upturned edges leading.

In winter you can turn the switch and the fan will help warm the room by pulling the cool air up toward the ceiling.
Can I save energy by using a ceiling fan?
Ceiling fan motors generally use less energy than air conditioners and furnaces. Using a ceiling fan is a good way to cool a room while using less energy.
Can I use an indoor ceiling fan outdoors?
Only ceiling fans specifically built to handle the ourdoors should be installed outside. Even if you have a screened in porch, an outdoor ceiling fan should be installed because indoor fans can break or short. A shorted out ceiling fan may cause a fire. Depending on the climate of the region you live in, you should look for either wet-rated or damp-rated.
Ceiling Fan Installation Reviews
"I just want you to know that I had the greatest experience with your company. Starting with the first phone call to Ronn – he was so polite and helpful. You sent a young man, Petrus, to do the job. He went to great lengths to explain everything to me. I'll admit I'm a woman and know nothing about electric issues. I have already sent another customer to you. Thank you so very much for having great people working for you and making me feel important." – Jayne Welsch
Tel: (800) 446-8915
Fax: (954) 867-7139
Monday - Friday
8 am to 5 pm
Your South Florida Electrician Since 1989
Licensed Electrical Contractor, License: #EC0001331

Ceiling Fan Installation Coupons
Ceiling Fan News Articles