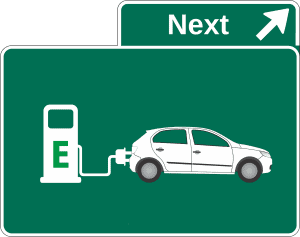 It's important to know that when you own an electric vehicle, you must either purchase an EV charger or have one close by. All electric vehicles do not have a gas tank which means you are relying solely on the charging station. So instead of visiting a gas station every week, you can just plug the car in to get a charge. Research shows that around 80% of electric vehicle owners charge their car at home. To know how EV chargers work and what sort of charge you can expect to get is an important aspect of EV ownership.
Charging your vehicle is actually a simple process. Simply plug your vehicle into the charger and your charging. With all appliances, not all chargers are the same. Some chargers are fine just being plugged into a normal wall out while others require a more heavy duty outlet. Charging times also vary depending on the charger you choose.
There are three basic types of car chargers – Level 1, Level 2, and Level 3. Level 1 and Level 2 are the more common types of chargers while Level 3 or DC Fast Chargers are found more in commercial settings.
Level 1 chargers are ones that you can simply plug into any normal house outlet. These chargers only require 120 V and do not require the installation of a special outlet. You can typically expect to get around 2 to 5 miles per hour charged.
These types are chargers at the cheapest option but they are usually also the slowest. It's best to use these types of charger overnight to allow for a fuller charge.
Level 2 chargers can be found both in residential and commercial settings. These chargers require an installation of a 240 V outlet – it looks like the one your dryer uses. It's best to find a professional electrician who either specializes in EV charger installations or just outlet installations to install this for you.
You can expect to get from 10 to 60 miles of charge per hour with a Level 2 charger. Depending on how low your battery is, a Level 2 charger can fully charge your car in as little as two hours. This is perfect the homeowner who wants a faster charge or a business who wants to offer a charge to their customers or employees.
Level 3 chargers, or DV Fast Chargers, are even faster at charging your vehicle. You can get from 60 to 100 miles per hour charged with this charger. Unfortunately, these chargers are mostly found in commercial or industrial settings. A highly trained electrician must install these chargers as they require pretty sophisticated equipment. Many cars cannot even use the DC Fast Chargers, especially the plug-in hybrids.
Purchasing an electric vehicle and its charging station can often be confusing, but if you're able to find a professional electrician who can walk you through the process, it will be a piece of cake. Do your research and find someone who has the right experience necessary to get your car charging!
Elcon Electric has been serving the Miami area for over 25 years. We are proud to install many electric vehicle chargers all over the South Florida area. If you have any questions about your EV charging station, please do not hesitate to contact us.