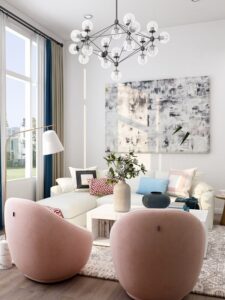 Are you confused about the exact tools and equipment you will need to install your chandelier? Then keep reading to learn all you will need from start to finish while installing a chandelier in your home or office space. It is important to note contacting an electrician near you to help in your chandelier installations is more advisable than trying to fix it yourself.
Installing a chandelier can be technical and if not done right can lead to damage that will cost you more. So, you should call on an electrician to help you fix your chandelier lighting if you aren't sure you can fix it yourself.
5 Main Equipment and Tools For Chandelier Installation
Below are some of the required tools needed for the chandelier installation. You might already have some of them at home or have to purchase them. If you are calling an electrician to fix the chandelier for you, they will already have these tools, so you won't need to worry about buying anything.
Ladders: This is the most important tool for the chandelier installation. Chandeliers are usually set up on high ceilings and roofing for better illumination and added decor. The ladder has to be sturdy and durable to carry the weight of the installer and his tools. There are different ladders for different heights. One can use stepladders and extension ladders depending on the height you want to place your chandelier. They both have their pros and cons, but they are useful. With the help of one other person, you can use the ladder to get the chandelier up without fear of falling off.
Scissors Lifts: This is another alternative to using a ladder. It is better than the ladder because of its mobility and can be used in installing lights in the foyers. It is preferable for varying heights and is very reliable in lifting the electrician carrying the chandelier to be installed. Although it is quite expensive, you can rent one for a few hours of installation. Also, it requires an electric motor to keep it working, so you'll need electricity to use it.
Voltage Testers: This is important for testing if there is electric current or not in the socket or cable box you want to rewire your lighting. You must switch off the electricity from the main box for safety purposes, but confirm there is no electrical surge by testing the voltage before you begin the installation.
Screwdrivers and Screw Gun: You will need these handy tools during the chandelier installation process. So ensure you get the right sizes to help tighten or loosen screws while installing a chandelier.
Pliers and Knives: An electrician's pliers and a utility knife are viable tools while installing chandelier lighting. They will come in handy in the wiring process. If you're using the services of a professional electrician and they ask you for a knife in between installation; fret not. He or she just needs it to help fix your chandelier lighting.
We hope you find this article useful in helping you know the tools and equipment you may need to rent or buy while installing your chandelier. Don't forget to call an electrician near you instead of attempting a do-it-yourself procedure which may cost you more money.