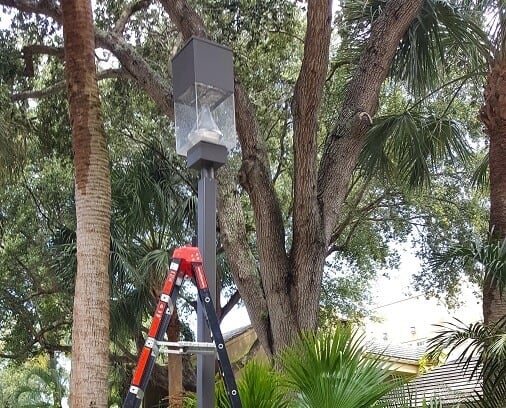 Exactly as it sounds, parking lot lighting is found outdoors in parking lots, as well as pathways and driveways. The lights are usually high up on poles to provide lighting for vehicles to drive and safety for people walking around. It's important that the lighting is correctly located and bright enough to ensure the safety and security of those around the area.
Installing and repairing parking lot lighting can be difficult if your electrical contractor does not have the correct equipment. Bucket trucks are especially important to reach very high lighting on poles. Many electricians offer services that include parking lot lighting repair and parking lot lighting replacement but not all those provide a specialized program for parking lot lighting services.
This is where Elcon Electric comes in. We offer a program called Night Owl. This provides businesses and property managers with periodic monitoring to your parking lot lighting so that you can be sure all the lights are coming on as scheduled and working properly. We offer this service to the following:
Property Managers
Car Dealerships
Office Buildings
Retail & Restaurants
Industrial Complexes
Home Owners Associations
Facilities Managers
Businesses in South Florida will definitely want to check out this program. We can help reduce your exterior parking lot lighting maintenance costs. When you go with Elcon Electric for your parking lot lighting needs, this Night Owl program for lighting surveillance is included at no charge.
We can help save you money by charging fixed prices for replacement of lamps and ballasts. Our suppliers and vendors are able to provide us with the hard to find supplies quickly so we can get your lights back on. We provide services for everything from parking lot poles to parking lot lighting fixtures that are wall mounted as well as lights that are elevated. We are also proud to provide extremely competitive pricing on any other lighting needs you may have because we own our own bucket trucks and do these jobs every day.
The electricians at Elcon Electric are specialized in working with LED parking lot lighting and exterior lighting maintenance. We are able to provide the following services:
Repair of light poles up to 40′
Inspect and repair of lamps
Repair and replacement of ballasts
Adjusting, programming, and repair of time clocks
Replacement and repair of fixtures or lens
Around the clock emergency electrical services
It's important to note that Elcon Electric's Night Owl program is not available on utility-owned light poles. For these types of repair, please call your local utility company and they will be happy to help out.
Elcon Electric has been providing the South Florida area with expert electrical services for over 25 years. We are proud to provide a variety of services to commercial properties and businesses including our Night Owl program. We know the safety of residences and customers are important to businesses and property managers. If you are looking for parking lot lighting near you, give us a call today to learn more!