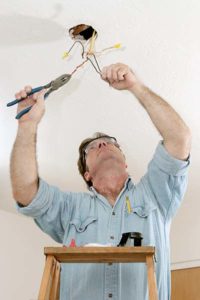 Are you ready for the holidays? Do you have grand plans for putting on lovely dinners or inviting the whole family over for cocktails? No matter what your plans on for the very busy holiday season, you probably want to make sure your home looks its best. This is a time to be proud of your home and maybe even your own personal flare for style and elegance. Some people will have the carpets replaced or simply cleaned to help make the home look fresh and new. Repainting and even buying new furniture isn't unheard of. How about upgrading the lighting? Imagine walking into your den or kitchen and having a brilliant new light fixture that adds plenty of style with very little effort. Your West Palm Beach electrician can make that happen for you. All you need to do is call Elcon Electric.
The benefits of having a new light fixture installed are numerous.
Gives the home a new look with very little cost involved
New light fixtures tend to be more energy efficient, which can save you money
Home improvement that will add value to the home
Lights are brighter, meaning you won't need as many
An electrician in West Palm Beach will take care of all of the heavy lifting so to speak. You don't have to do anything more than pick out the light and make the call. It is one of the easiest, quickest and most effective enhancements you can do to a room. Go bold or go subtle. Go trendy or go vintage. The possibilities are endless. You can even add more than one light or change the position of the light. This is something you will want to discuss with your electrician. West Palm Beach homeowners can give Elcon Electric a call and get their new lighting installed just in time for the holiday entertaining season.