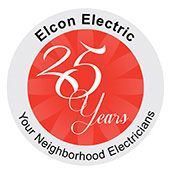 Finding an electrician in West Palm Beach that you can trust is no easy task. Countless hours of internet searching and reading through reviews can leave you with a headache.
Elcon Electric is here to alleviate your pain. Give us a call today to talk about your next electrical project. We have been in business for over 30 years and are proud to serve the West Palm Beach area.
Our team of highly experienced and certified electricians are local to the area. We are aware that West Palm Beach brings a lot of competition but we have won over our customers by our policy to treat customers the way we would like to be treated. This has gained us a great reputation with home and business owners and we are grateful for that!
Elcon Electric: A Trustworthy Electrical Contracting Company
We've been around since 1989 so we know what our customers want. You want to be happy with the work we perform and not get charged an arm and a leg for it. In order to even hire an electrician, trust has to be put into that company. When a technician misses an appointment, arrives late, or causes a mess, that trust is gone.
We're here to earn your trust. We will arrive on time with all the equipment necessary to perform the job. No extra time for running back and forth to the warehouse. Our work is triple checked and the area is cleaned up before we leave.
Our team is certain you will be 100% satisfied with every aspect of your electrical job, from the initial call to the work performed. Give us a call today to learn how we can help you!
[divider]
Services Offered by Our Electricians in West Palm Beach
Ceiling Fan Installation
Chandelier Installation
Electric Car Charger
Electric Wiring and Repair
Electrical Panel Upgrades
Home Safety Inspection
Kitchen Remodeling
Landscape Lighting
Lighting Repair/Installation
Lighting Retrofits
Lightning/Surge Protection
Parking Lot Light Repair
Security Lighting
Service Changes/Upgrades
Outlet Repair & Installation
[divider]
Free Electrical Help
Visit our free tips page for information on how you might be able to fix your electrical problem by yourself. You can also call or e-mail us for a free estimate or if you have any questions about your electrical West Palm Beach FL issues. We're always glad to hear from our customers!
Our West Palm Beach Handy-Dandy Guide
[divider]