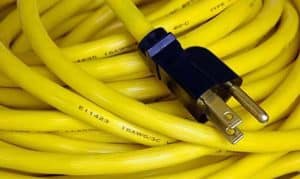 In just a few short days, the neighborhood will be lit up and bright enough to see from the sky. You and your neighbors will be unpacking the boxes from the garage and attic and preparing to deck your halls and landscaping to help get into the holiday spirit. The decorating can be a lot of fun and maybe even a little competitive. It can also be a little dangerous if you don't follow some standard safe electric guidelines. Your Fort Lauderdale electrician wants you to win the best looking house on the block, but only if it is done with safety as the number one priority. The team at Elcon Electric can answer any questions you may have about electric safety.
1. Inspect everything before you ever plug it in. Rodents have a real knack for chewing wires. You don't want to plug in a cord that is frayed or damaged. It could spark or even worse, electrocute you.
2. Only use the round cords outdoors. These cords have extra insulation that will protect the wires from the elements.
3. Only use lights and décor outdoors if it specifically stated on the packaging. Putting indoor decorations outside could result in a fire or at the very least damage your lights and decorations explains an electrician in Fort Lauderdale.
4. Don't get too carried away and overload your circuits. If you have the lights on and attempt to run the microwave inside and the breaker trips, you overdid it. In fact, tripping breakers is not a good sign and you will need to distribute the lights and decorations to different breakers. If this isn't possible, call an electrician. Fort Lauderdale homeowners can have additional breakers installed or if it is really important, a full panel upgrade is an option.
5. Don't leave your lights and décor on when you are gone. It is best to use a timer to prevent any overheating that can happen if the lights are accidentally left on.
Decorating your home and trying to have the biggest and brightest display can be fun, when it is done safely. Don't risk your life, the lives of those who live in the home or even your neighbors. Call Elcon Electric if you have any concerns or questions about what is safe to do and what isn't.