Surprises can be fun on your Birthday or at Christmas… but not when it comes to paying more than you expected for a service call!
Elcon Electric offers up-front pricing to eliminate these surprises – you know the exact price you will pay before the work begins. It is all about fairness and trust. We want to earn your business over and over for many years to come; up-front, pricing is an important part of that commitment.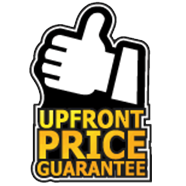 EXAMPLE – you would not walk into a restaurant and expect to pay an hour rate for your dining experience, to include the chef, waitress, dishwashers, food, etc. Smart consumers understand the benefit and necessity of up-front, all-inclusive pricing. Virtually every product and service we enjoy today is delivered at a flat price rate – we feel it is only right and fair that service companies deliver the same.
Benefits to You:
You know and approve the exact price before the work begins.
The cost for the stated work is fixed regardless of how long it takes – "extra hours" do not mean "extra money."
The company takes responsibility for having the proper tools, equipment and parts on site.
Each customer pays the same price for the same service regardless of technician. This is comforting to anyone who feels they may be taken advantage of.
The Switch is ON to Elcon – your Neighborhood Electricians!