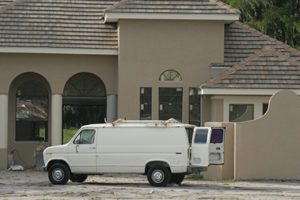 Now is the time of year you spend more time outside enjoying the weather. Living in southern Florida is a dream for many and if you want to take full advantage of the beautiful tropical environment, being outside is the way to do it. Sometimes, you get outside in the evening, chilling in your comfortable patio furniture and you feel like something just isn't right. You need a change. You need the landscaping upgraded a bit to really make the outdoors a little nicer after the sun has gone down. A little more curb appeal is never a bad thing and a Miami electrician can help you improve the way your house looks in the evening hours. At Elcon Electric, you will find a team of electricians who have the experience you want and need when it comes to transforming your boring landscaping.
There is a lot you can do with a little lighting placed in the right spot. An electrician in Miami can work with the landscaping company you choose or follow your direction about where you would like new outdoor lighting installed. While there are some solar options that can be used to accent your landscaping, these options are not always ideal for areas that tend to get a lot of shade throughout the day. The lights simply don't get the energy they need from the sun and will either be very dim or not light up at all.
There are some pretty neat things you can do with landscape lighting. Ornamental trees and roses can be enhanced with a spotlight. You can even add a colored bulb to the light fixture to really make the area unique and beautiful. These are all things you can discuss with your electrician. Miami homeowners will love being outside with their new outdoor lighting scheme. Give Elcon Electric a call today and see what kind of transformation they can do for your.