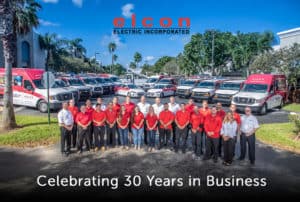 Looking for a Miami electrician you can trust? We know it might be hard but you can trust us! Elcon Electric has been in business in the Miami area for over 30 years. Just take a look at our reviews and know you're in good hands.
We are proud to have built a company of highly experienced, ceritified electricians local to the Miami area. We are well aware that there is a lot of competition around us but we make it our policy to treat our customers the way we would want to be treated. This policy has gained us a great reputation and we are greatful for all our customers.
Choose us for your next electrical project and we will be sure to provide you with quality work and honest prices!
[divider]
Your Miami Electrician
When something goes wrong with your electrical system, you need to have someone you can count on to get you back up and running fast. Our team is local to the Miami area so we can get some to you fast.
Whether you want to rewire your entire home or fix a single electrical outlet, Elcon Electric of Miami will provide you with:
Knowledgeable electricians who pride themselves in doing the job right
Dependable job scheduling and prompt response time
Friendly, courteous electrical service with spotless clean up
[divider]
Services Offered by Our Electricians in Miami
Ceiling Fan Installation
Chandelier Installation
Electric Car Charger
Electric Wiring and Repair
Electrical Panel Upgrades
Home Safety Inspection
Kitchen Remodeling
Landscape Lighting
Lighting Repair/Installation
Lighting Retrofits
Lightning/Surge Protection
Parking Lot Light Repair
Security Lighting
Service Changes/Upgrades
Outlet Repair & Installation
[divider]
Free Electrical Help
Visit our free tips page for information on how you might be able to fix your electrical problem by yourself. You can also call or e-mail us for a free estimate or if you have any questions about your electrical Miami FL issues. We're always glad to hear from our customers!
Electrician Costs in Miami
One of the biggets concerns for homeowners is: "How much is this going to cost?" We understand that a budget needs to be met so that's why we are happy to provide honest prices for our work. We will not try to nickel and dime you on an electrical job. Having been in business for over 30 years, we can usually estimate how much as job will cost and give you the best prices.
In addition to honest prices, our electricians will arrive with fully stocked vans. They have the materials necessary to complete most jobs on the spot. This means they won't have to make unnecesarry trips to the hardware store.
Our Miami Handy-Dandy Guide
[divider]