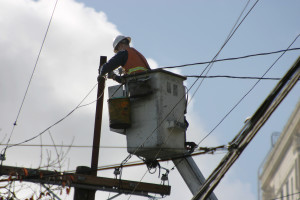 Now is the time to start thinking about how you would like your meal preparation to go when you host family and friends this busy holiday season. Think back to the past couple of years and what were some of the biggest hurdles you faced while trying to put together a spectacular feast for your guests to enjoy. Once you have identified your problems, whether it be poor lighting, an old refrigerator that didn't have enough room or you simply want new appliances, it is time to give your Miami electrician a call. The team at Elcon Electric is ready to help you get your home ready for the holiday party season.
There are plenty of little things that can be done in your kitchen to help make it more functional for you without doing a full remodel. One of the biggest issues many cooks have is the lighting. If your kitchen is nice and big, a couple of recessed lights are not going to give you the light you need to create beautifully decorated cakes and cookies. An electrician in Miami can install track lighting equipped with LEDs that will shed light in all the places you actually need it.
Another option for brightening up kitchen workspace is under the counter LED lighting. Again, this is something you can give to your electrician. Miami homeowners will love their bright kitchens. If you have decided to take the plunge and buy new appliances, you may need the help of an electrician to move or add an outlet. Remember, it is your kitchen and just because the refrigerator has always been in one place, it doesn't have to stay there if it isn't functional. Have fun and make your kitchen work for you! Give Elcon Electric a call today and schedule your kitchen renovation.