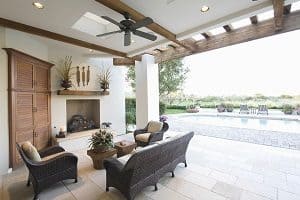 Installing an indoor fan outdoors may not turn out as great as you anticipate. The indoor fan is not designed for moisture, and if moisture does reach its motor, the fixture may go bad quickly. Here are a few other things that could go wrong when you install an indoor fan outdoors:
Rusting
Your fan's beautiful finish may rust, or fade and look visibly dull.
Burning/fires

Your fan's hardware may start to rust. This will increase the risk of the wires getting exposed, which may result in an electrical fire.

Melting

With the fan being affected by heat, the blades may melt and start to lose their shape, resulting in rickety sounds not to mention weird looks.
What then do you do when you want some cool air on your porch? If you didn't say outdoor ceiling fans, you're wrong.
Outdoor Ceiling Fans
Outdoor ceiling fans are fans used for keeping the outdoor space cool.
Kinds of Outdoor Ceiling Fans
There are two kinds of outdoor ceiling fans. They include:
Damp Rated
These kinds can be used for outdoor spaces that are covered/enclosed, and in humid spaces. However, they should not be directly exposed to rain or snow. They can also be used in the bathrooms or laundry.
Wet Rated

These kinds can withstand every kind of condition, be it rain, harsh breeze, snow or even ice. You can have them in your veranda, deck, patio, gazebo, and so on.

Why Install an Outdoor Ceiling Fan?

It lets you enjoy your time-out with your family, without worrying about having your eyes on your kids, as it's out of their reach.
It will make sure that you stay cool, especially in the hot periods of summer.
You get to decide the exact kind you want, in terms of its size, color, and even style. If the aesthetics of your home means a lot to you, then this is great news, as you do not have to compromise your home's beauty while choosing comfort.
Most fans, both outdoor and indoor, come with lighting. It's great to have lighting outdoors that gives a relaxing ambiance, along with the cooling.
Sometimes, bugs may get attracted to the lights around and this may become a source of discomfort. However, because of the wind created by the fans, it becomes difficult for pests to fly and cause discomfort.

How Do You Install an Outdoor Ceiling Fan?

Ensure that you go through the manual first so that you understand the details. The following points should also help:

Before installation, endeavor to turn off the power at the circuit breaker box.
Check your package to ensure that all the tools and necessary tools are included.
Assemble the fan blades and down rod.
Get the mounting bracket installed to the junction box.
Get to the hanging of the fan body from the bracket.
Do the wire connections
Get the motor housing and blades attached.
Fasten screws
Turn on power and test.
Check for any sounds and fix

You can contact us for your outdoor fans installations and consultations on what brands to purchase at Elcon Electric.