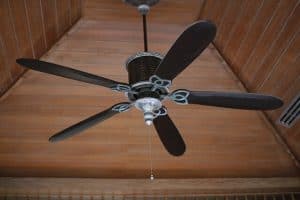 Installing a ceiling fan in your home can add a lot of value in various different ways. Not only can it create a cooling effect in your rooms, but it can also help you save money on energy bills as well as bump up the value of your home.
In the summertime, a ceiling fan can help create a cooling effect much like a cool breeze outside. It will help to evaporate the perspiration on your skin and cools you down a couple of degrees. During the summer, the blades should be blowing the air down onto the people in the room. For this to happen the blades must be rotating counter-clockwise when looking at it from below. If looking at the fan straight on, the blades should spin with the edges turned up.
Many people are unaware, but most ceiling fans can also keep rooms warm during the winter. There should be a switch on the base of the fan that rotates the blades in the opposite directions. When this switch is used, the warm is that is escaping up will be pushed back down to keep the room warm.
Ceiling fans also use less energy than traditional air conditioners and furnaces. Using a ceiling fan is a good way to keep a room comfortable while helping to save electricity and money. It's important to note that ceiling fans should only be used when a room is occupied as the air movement in an empty room will have no benefit.
You can find a wide variety of designs, shapes, and colors of ceiling fans to best match the style of your room. Many fans are made from different materials such as wood or metal. You can also install ceiling fans with or without lights or use a remote to control them. An addition of a ceiling fan can definitely increase the value you of your home.
If you live in the South Florida area and are looking for proficient, understanding and honest electrical experts, we hope you will consider using Elcon Electric of South Florida for your electrical work. Whether it's for a new installation of a ceiling fan or repair of any part of your existing electrical system, we honestly feel that we can provide you with electrical services unparalleled by any other South Florida electrical contractors.