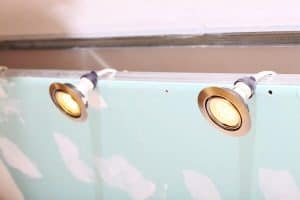 Is it time to give the bathroom in your home a little attention? Giving the space a facelift can make it more appealing while making it more functional. Many people assume the bathroom is what it is and there isn't a lot to be done to make it better. Adding fresh paint or changing the theme or color is one option. Another thing many homeowners don't think about is the lighting. Lighting is important, especially when you are getting ready for the day. Your West Palm Beach electrician can help you transform your boring, dim or overly bright bathroom into a space that is attractive and functional. As always, the crew at Elcon Electric are ready to help.
You need different types of lighting for different activities in the bathroom. It is the one room in the house that should have at least two types of lighting, possibly three depending on the size.
Vanity Lights
While getting ready for the day, you will want plenty of lighting, but you want lighting that gives you an idea of what you will look like in the harsh light of day. Lighting that is too harsh, can make you look sickly or result in you getting a little heavy-handed with the makeup or hair products. Lighting that is too dim can be just as disastrous. Mirrors should be lit from the side with wall sconces.
Showering
An overhead light that includes a fan and some heat makes for a very enjoyable showering experience. A heatlamp provides adequate light for showering and keeps the chill out of the air while keeping the humidity low explains an electrician. West Palm Beach homeowners can do a little shopping around to find the perfect heatlamp and bath fan combo.
Night Lights
A plug-in night light with a motion detector is an option or you can consider having a dimmer switch installed by an electrician in West Palm Beach. This gives you total freedom to decide how much or how little light you need based on the task.
Give Elcon Electric a call today and schedule your bathroom lighting renovation.