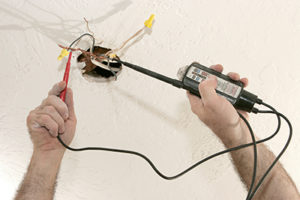 There is a certain excitement when you walk into a room after you have changed the paint color, carpeting or maybe even just changed up the décor. It makes it all feel new again, but yet it is still your some comfortable home that you love to relax in. Things tend to get stale after we see them every day. We basically wear blinders and don't even really see the little things any more, like the light fixtures. An electrician in Fort Lauderdale can help you freshen up every room in your house by making it look brand new again. All you need to do is give Elcon Electric a call.
When you invite company over, you probably put on your outsider glasses and really see your home in a different light. You see the little things that need to be dusted or tidied and you may look at the boring light fixture in the center of the room and realize it is blah. It could be better and you are going to see what is out there. The moment you step into a lighting store or a big box department store, you are going to get very excited about what your Fort Lauderdale electrician can do for the overall look and feel of your home.
Go bold, go bright or go soft and subtle. The possibilities are endless. In many cases, the new light fixtures will require more energy efficient bulbs, which means you are going to be saving money over the coming months on your electric bill with your new light fixture in place. Once you have made your decision, call an electrician. Fort Lauderdale homeowners can count on the professional to get the new light fixture installed safely. This is also a good time to have a dimmer switch put in if that appeals to you. Give Elcon Electric a call today and get started with your home lighting makeover.