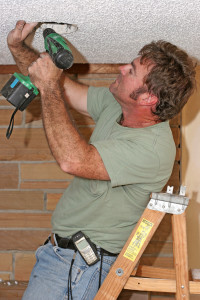 Some older houses have a certain charm that is appealing to many buyers. Many of the houses have been left just as they were some 30 to 50 years ago. The time capsule feel is appealing and you may be hesitant to change anything about the home for fear of losing that authentic vintage look. However, you will soon discover the older homes do have some drawbacks and when you realize how easy it is to make some very minor changes to the home to bring it into this century without losing the overall look and feel, you will jump at the chance. An electrician in West Palm Beach explains that lighting is a fairly easy upgrade that enhances the home without detracting from the old-fashioned style. The team at Elcon Electric can help you bring your old home into this century without losing any of the charm that first attracted you to it.
One of the quickest and fairly non intrusive ways of updating a home is by adding more modern light fixtures. Older homes typically have no fixtures in large rooms or a single fixture. It makes a room look dark and cloying. Your West Palm Beach electrician can make your home look bigger and feel more inviting by simply installing a new light fixture for you. Recessed lighting is a current favorite trend, but you can choose anything that suits your style.
Always leave the installation to an electrician. West Palm Beach residents will feel better knowing lights have been installed correctly. This is also a good opportunity for the electrician to get an inside look at the existing wiring in the home. You will be notified of any potential problems and have the opportunity to take care of them before they become a serious hazard. Give Elcon Electric a call today and schedule your new light fixture installation.