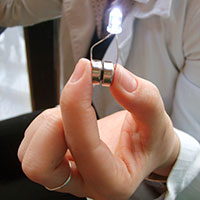 With all the cooking you have been doing this holiday season, you may have noticed your kitchen is a little dark. You are trying to create masterpieces to present to your family and friends, but you can't see well enough to know what you are slicing and dicing. You probably look like a contortionist trying to move this way and that so you can see the cutting board without blocking the light from the ceiling. What if you could solve all of your problems with a phone call to a West Palm Beach electrician? The team at Elcon Electric can help make your holidays and your kitchen much brighter with the installation of LED lighting under your cabinets.
LEDs are the wave of the future. They are super bright and use very little electricity. You can choose to have one or two lights placed under your cabinets or an entire row for maximum effectiveness. The LEDs are sold in flexible strips that can be cut to include a couple lights or the entire length of the area under your kitchen cabinets. Your electrician in West Palm Beach will take care of wiring the strips to a plug that you will plug into a kitchen outlet.
The light strips are not only for the kitchen. You can have them placed along the edges of dark hallways, inside your closets or even around your headboards. They are so flexible they can be placed nearly anywhere. The lights can illuminate areas that are simply not meant to have actual light fixtures. You don't have to stumble down a dark hallway with your arms out as you follow the wall. No more digging around the bottom of your closet with a flashlight in your mouth trying to find a matching pair of shoes. For the best installation, you will want to leave it to a professional electrician. Give Elcon Electric a call today and schedule your installation.