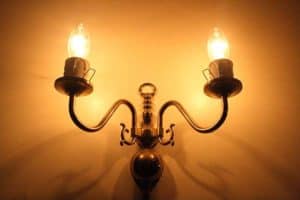 There are many elements of a room's décor that can help set the tone for the space. Obviously color of the walls, the flooring choices and the size of a space are important elements. However, the one thing that is often overlooked or maybe people assume it isn't up for change is the lighting. Natural lighting is desirable in any room, but it isn't always welcomed in areas where privacy is more important. Bathrooms and bedrooms can look a little dingy and depressing because of the lack of natural light. You don't have to let this be the case. Your Miami electrician explains how your choice of lighting fixtures can make a difference. The team at Elcon Electric is here to help you make the change that will make a huge difference in your rooms.
Your bedroom is often the space you retreat to after a long day. It is natural you would want muted lighting rather than bright, overbearing light. You can have both. This way you will always be able to match your lighting to your mood and what you need in the moment. Wall fixtures that rely on smaller bulbs are perfect for creating a nice glow that isn't too harsh explains an electrician in Miami. You can even choose colored bulbs that help soften the light.
The wall fixtures can be in combination with recessed lighting in the ceiling or the standard fixture in the center of the room. Your ceiling fixture can be set up to use larger, brighter bulbs. There would be two different switches installed by your electrician. Miami homeowners have the freedom to choose what works best for them. A dimmer switch is also an option and eliminates the need for several different fixtures if that works better for you. Give Elcon Electric a call today and schedule your new lighting installation.