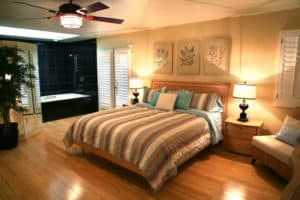 A ceiling fan may seem like a pretty standard feature in most homes, but they do get a bit dated after time. If you have a single fan in the home, you may be considering having more fans installed to really help circulate the air in the home. This is an excellent idea. Bedrooms are an ideal choice for ceiling fan installation. The cool air stirred up on a hot summer's night can help you sleep easier. The room will be more comfortable and a ceiling fan adds a touch of elegance to any space. If you are thinking about updating or adding additional ceiling fans to your home, call your electrician. Fort Lauderdale residents can rely on Elcon Electric to provide excellent, timely service.
Ceiling fans are no longer the boring, brown fans with a single light in the center. Nowadays, they come in all different styles, colors and sizes. Many of the fans have blades that can be changed out and replaced with new ones if you happen to get bored with the color or design. This may not seem like a big deal, but you would be amazed at the difference a splash of color on the ceiling fan blades can make to a room. You can do this on your own without calling an electrician in Fort Lauderdale.
Another major perk to ceiling fans are the handy remote controls that are either included or can be added separately to almost any fan by a Fort Lauderdale electrician. You can change fan speeds and turn the lights off and on without ever leaving your spot on the couch or the comfort of your bed. There is no need to suffer this summer. You deserve a new ceiling fan. Just give Elcon Electric a call to schedule your ceiling fan installation or upgrade.