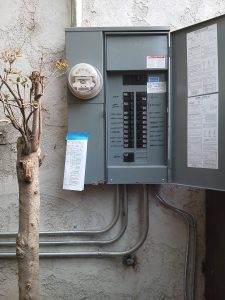 Homeownership can be a great part of life. But that freedom that comes with owning a home also comes with great responsibilities. Sure, you may be able to paint the walls whatever color you like and grow giant trees in your yard, but you also have to take good care of your home. When things start going wrong and acting strange, you are the one who has to fix them. Figuring out what is causing the problem is sometimes the toughest part of fixing it.
Many homeowners can fix the issues by themselves but there is one aspect of the home that should be left to the professionals: your electrical system. When the electrical system starts to act strange, a quick call to an electrician can help get things sorted. They will usually want to know what is going on and where you are experiencing the issues. The electrician might also want to come to do a site visit to troubleshoot the problems.
When the electrical system in homes starts to cause problems, the number one question is usually about cost. How much are these electrical repairs going to be? If you are experiencing specific types of issues, such as frequently tripping breakers, weird smells and sounds, or if you have an older home, you might even have to have a panel upgrade. How do you know for sure if you need a panel upgrade in your home?
When determining if you need a panel upgrade, it's important to know exactly what the main panel is. The main panel in your home is what connects the outside electricity to the outlets in your home. It's usually a metal box with breakers in it. These breakers connect various parts of your home with power. When they "trip", the power is stopped so no harm is done to your home.
How do you know if you need a panel upgrade? There are a few symptoms that your panel might need an upgrade.
Older Homes
If your home was built before the 1960s, there's a good chance you need a panel upgrade. Older homes usually have outdated wiring and panels that cannot handle today's energy needs.
Fuse Box
If your home still has a panel full of fuses instead of circuit breakers, you need a panel upgrade. Fuses were not made to withstand today's electrical needs and can cause a danger to your home.
Sounds and Smells
Burning smells and cracking noises are never a good sign unless you're roasting marshmallows. If you notice any weird burning smells or hearing any cracking noises near your electrical appliances or panel, it might be time for an upgrade.
Tripping Breakers
Breakers were made to trip to keep your family safe but if it is happening frequently, it might be time for an upgrade. Frequently tripping breakers usually mean the load being sent to your main electrical panel is too much.
Keep a close eye on what your home is telling you. If you think you need a panel upgrade or are experiencing any of these signs, give an electrician a call to assess your situation.
Elcon Electric of South Florida has been providing homeowners and businesses alike with expert electrical services for over 25 Years. We've built a company of highly experienced, certified electricians to serve your electrical needs.