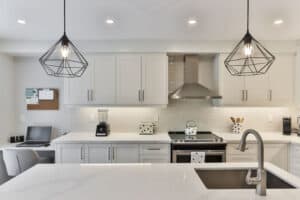 Kitchen remodeling is certainly a difficult task. Seeing that there are many factors to consider. And It doesn't end with choosing the cabinets, worktops, sinks, lighting, gadgets, etc. You must make plans for correct kitchen wiring to have electricity to power your gadgets.
To help you out, we have compiled a detailed report of all the steps you need to take to ensure you have a functional kitchen with electricity.
For every kitchen, you must make wiring plans for the 3 main circuit types which are: General lighting, Permanent lighting (alias) big appliances, and lastly small appliances.
The general lighting circuit provides all the lightings in the room. In addition, just at the room's entry, should be found a circuit with at least one switch-controlled light. The permanent lighting provides light for the oven, dishwasher, refrigerator, etc while the small appliances' lighting takes care of the toasters, coffee pots, blenders, etc.
The Various Circuit Types For Your Kitchen Lighting
Running electricity in a modern kitchen is an uphill task. Compared to a bedroom that uses just one multipurpose lighting circuit, a kitchen may most likely need up to six or seven circuits for full functionality!
As much as we would provide you with brief details on what it involves, your best bet would be to hire an electrical company or service to save you the stress while also giving you a professional wiring service.
That being said, a kitchen comprises 3 types of circuit lighting.
Kitchen General Lighting
Ceiling-mounted fixes often offer general lighting, otherwise called ambient lighting. You could wish to use LED recessed lighting fixtures to scatter the light. Incandescent light fixtures installed on the wall or pendant lighting fixtures would also work well.
There is also the matter of cove lighting which is used to create a halo effect on the top of wall cabinets.
Kitchen Small Appliance Lighting 
Two 20-amp circuits for small appliances must be present in all kitchen wiring plans. They service all top-of-the-counter receptacles and also the wall receptacles, particularly if they are also placed in the pantry and dining room.
Two 20-amp, 120/125-volt circuits are required for electric grills, coffee pots, toasters, blenders, and other appliances. Of course, you could put in more, but the code just requires two.
Kitchen Permanent (Large) Appliance Lighting
The National Electrical Code often needs specialized wiring for large equipment in your kitchen. This consists of the following:
Range or oven that is powered by electricity;
Dishwasher and garbage disposal (if their combined rating exceeds one circuit's capacity, ensure sure they have distinct circuits);
Microwave that is permanently mounted or cord-and-plug and then a refrigerator.
If you need further guidance or a professional service to sort it all out for you, contact us today at Elcon Electric. We'll have your kitchen wired in no time at all.