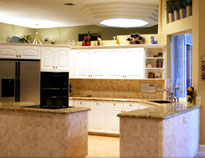 About Kitchen Remodels Electrician
Are you waiting for the perfect time to remodel your kitchen to create the space that you've dreamed of? Do you feel like the time will be right next year? Or the year after?
Remodeling your kitchen has never made more economical sense than it does today. A kitchen remodel is one of the best ways to increase the value of your home, and the enjoyment of your time in the kitchen. Updating the kitchen lighting can dramatically change the setting for your home. Depending on the age of your home, the difference between your current kitchen and the remodeled kitchen you've been dreaming of is the difference between night and day.
When remodeling, take this opportunity to update the wiring and lighting at the same time. Add in kitchen light fixtures to spruce up the room. You'll be amazed at the difference you see with modern and appropriate lights.
Whether your remodeling project is limited to changing out a light fixture or gutting the room to start from scratch, Elcon Electric's professional electricians can make sure that you get the most for your investment dollars. Our electricians are accustomed to working with contractors on renovation projects and working with you to get the exact lighting and kitchen wiring you want and need in your remodel. Contact us today so we can help you propel your home into the future with a modern kitchen remodel.
Kitchen Remodels Electrician FAQs
What should I upgrade when remodeling my kitchen?
What other elements should I consider when remodeling my kitchen?
What should I upgrade when remodeling my kitchen?
Upgrades begin with up-to-date electrical systems that boost your home's value and enhance your lifestyle comfort. If you plan on updating the appliances in your remodeled kitchen, you'll want an updated electrical service to meet the increased power demands.
What other elements should I consider when remodeling my kitchen?
Replacing outdated lighting, especially the recessed fluorescent fixtures that were so popular in the 70s and 80s, goes a long way to putting a new face on an older kitchen. Consider your kitchen ceiling lights. Flip through a home design magazine and you will notice that the new kitchens are outfitted with recessed lighting on the ceiling, optimally controlled with dimmer switches, plus pendant lighting, mini pendants and island lighting. Adding new kitchen ceiling light fixtures can make a great difference. Under cabinet lighting highlights the counter surface and makes it easier to work effectively.
Kitchen Remodels Electrician Reviews
"Just a note to inform you on the great service I received from your company. The service technicians were polite and accommodating. It is a pleasure to find such skilled workers." – Dorothy & Toby Steiner
Tel: (800) 446-8915
Fax: (954) 867-7139
Monday - Friday
8 am to 5 pm
Your South Florida Electrician Since 1989
Licensed Electrical Contractor, License: #EC0001331

Kitchen Remodels Electrician Coupons