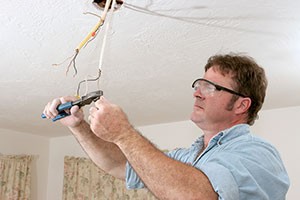 Making the home a safer place is a common goal for many homeowners. Your home is your refuge, your castle or your safe haven. You want to feel safe and secure in the home and don't want to worry about whether your family is safe when they are sleeping or hanging out at home. There are a few things you can do with the help of an electrician in West Palm Beach to make your home a little safer. The team at Elcon Electric is here to help you make it happen.
Security Cameras
These are actually not as expensive as many people may assume. A camera pointed towards the driveway if often enough deterrent to keep away anybody with bad intentions. It gives the people inside the home a chance to monitor the outside without pressing their faces up to the window. The installation can be completed by a West Palm Beach electrician to ensure it is done properly.
Security Lighting
Having a well-lit driveway and yard is another safety measure that can deter those with bad intentions while providing the necessary lighting for you to come and go without stumbling around in the dark. It makes you feel a little better when you can see your surroundings and don't have to worry about what is lurking in the darkness.
Smoke Detectors
Hard-wired smoke detectors do not rely on batteries and are directly wired into your home's main power supply by an electrician. West Palm Beach homeowners will add several seconds to their family's notification of a fire because each smoke detector is interconnected. When one goes off downstairs, the alarms upstairs are sounded.
If you would like to have one or all of these devices installed to make your home a little safer, give Elcon Electric a call today and schedule your installation.