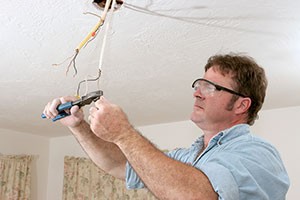 This is the season many of us look forward to for a number of different reasons. Spring is beautiful, mild and refreshing. It is a lovely break from the cooler temperatures and helps to ease us into the high temperatures that are just around the corner. This is the season we get a break on our cooling and heating bill as well. You can extend that break by taking advantage of some of these energy savings tips provided by an electrician in Fort Lauderdale. For more tips, give Elcon Electric a call.
Set your thermostat now. For summer time 74 degrees is appropriate. You want to get your body acclimated to the slightly warmer temperatures and not rely on a cool 68.
Have a ceiling fan installed in the bedroom by a Fort Lauderdale electrician. This will help you sleep better without you lowering the thermostat on those hot nights.
Replace any of your old incandescent light bulbs with CFLs or LEDs. These are much more energy efficient and can save you $20 or more each month on you electric bill.
Install timers on your outdoor lights to ensure you are not wasting electricity by leaving the lights on all day.
Do what you can to minimize phantom energy by unplugging chargers and small appliances that are not in use. Simply turning them off doesn't work. Anything plugged in is drawing a small current.
Only wash full loads of laundry and consider air drying some items when there is a nice breeze. A clothes rack is easy enough to set up on your patio or deck and will leave your clothes with a fresh scent.
If you need a new ceiling fan or light fixture, it is time to call an electrician. Fort Lauderdale residents can save money by replacing old fixtures with new, more energy efficient ones. Give Elcon Electric a call and schedule your appointment for a new ceiling fan.