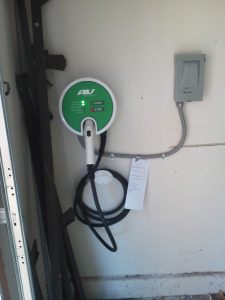 You can expect some big decisions coming your way if you're thinking about purchasing an electric vehicle. Once you decide which car you want to drive, you have to figure out where you're going to charge the car. If you live in an area where electric vehicles are popular, you usually find a public charging station near you. But if you want the convenience of charging at your own home, you need to figure out what option is best for you.
If you drive long distances and want a full charge overnight, you will want to install either a NEMA 14-50 or a wall-mounted charger. Both of these chargers will allow for a full charge overnight, but they are a bit different.
NEMA 14-50
A NEMA 14-50 is simply a receptacle – there's nothing fancy here. If you have ever seen the outlet that your dryer plugs into, you have seen a NEMA 14-50. With this type of charger, you simply take the wire that comes with your car out, plug it into the car and into the NEMA 14-50 and you're charging.
Wall Mounted Charger
Many homeowners decide to go with a wall mounted charger because of the look and convenience. Unlike with a NEMA 14-50, you actually have a nicely mounted device on the wall. There is also a fixed wire attached to the charger. So instead of pulling the wire out of the car and replacing it when your car is charged, you simply plug the charger right into the car and hang it up when you're done.
Where can you find the best EV charger for your car?
There are a lot of different places to turn to when looking for a new EV charging station. Your car dealership is a good place to start. If you trust the car salesman, ask for a recommendation on a car charger. They should be able to give you a good recommendation.
It might not seem like a logical place to look but a local electrician can also help you out. Think about it, electricians are installing car chargers every day. They know the ins and outs of the chargers and outlets. They also know which chargers work best with which cars and how to get the faster charge.
Because we are so confident in our team members and their abilities, all of our work comes with a "Lifetime Guarantee" – this is our expectation and commitment to you. All of us at Elcon Electric look forward to adding you to our list of lifetime customers.