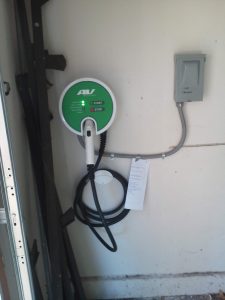 Coral Springs, a beautiful city in Florida, is home to a host of Electrical Vehicle Stations, so it is easy to charge your EV in the city. However, there is also the convenience of installing your own EV home charger in Coral Springs, without having to use the public charging stations.
Apart from the convenience, there are other reasons getting an EV home charger in Coral Springs may be a good idea:
Cheaper
A properly installed EV charger is, of course, cheaper since all you're paying is your electricity bill and the cost of installation. After this, you don't always have to pay to charge at home, unlike the public charging stations.
Faster

Installing an EV home charger saves time because it charges much faster than the public charging stations. Of course, there are fast-charging stations, but they are expensive.

Property Value

If you plan to sell your house, having an EV charger installed shoots up the value of the property significantly. With people choosing EV cars more, EV car owners will prefer houses that have EV charger units already.

Battery Life

Because having an EV charger at home guarantees a full battery, your EV car battery will last longer. Having quick taps at public stations will do your battery more harm.
Installing an EV Charger at Home
To install your EV charger at home, you will need an EV charger approved installer, a licensed electrician, to carry this out for you.
As a Coral Springs resident, search for an electrical contractor in Coral Springs. The good news is that Elcon Electric is in Coral Springs. Our electricians are reliable, licensed, and experienced.
Beyond getting a proper installation, you will also need to make an accurate decision about what kind of EV charger you will be getting. We will help with this too, but generally, there are a few factors to look out for while making an EV charger choice, they are as follows:
Charging Speed

Your charger speed is dependent on the charger's amperage and the acceptance rate of the vehicle in kW. You should be looking at between 205V and 240V, although basic EV home chargers start at 3kW. More advanced ones deliver up to 7kW and the most expensive ones get to 22kW.

Use

If you do not use your electric vehicle as often or you come back home with a reasonable amount of power still left, then you will not need an advanced charger, a basic home charger will do.

Electrical Supply

The charger's amperage has to be compatible with your car and the electrical capacity of your home. Purchasing a charger with a higher amperage may cause damage to not just your car, but your home.

Charging Cord

The charging cord is an important element of your home charging station. You want to ensure that the charger you get comes with a cord that is long enough to get to the charging port of your car.

Budget

Cost is a huge deciding factor, however, ensure that you're going for something durable. Long-term purchases are the best purchases.
Don't forget to schedule a call with us if you're looking for an EV charger approved installer near you in Coral Springs.