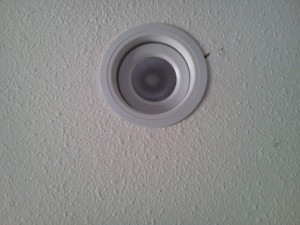 Although summer is on its way out, the weather in Florida allows residents to enjoy the outdoors a lot longer than their northern neighbors. You will likely need to give your outdoor lighting a tune up to make sure it is keeping up with your busy summer activities that tend to last into the much cooler hours in the evening. Outdoor lighting doesn't have to be the basic solar lights you pop into the ground. You can light up your outdoors with a beautiful lighting scheme that will have you hanging out outside a bit longer every night. An electrician in Miami, like those at Elcon Electric, can help transform your boring lighting to something dramatic and gorgeous.
One area that is often overlooked is the area under the roof of your home. One of the latest trends in outdoor lighting is one that has become increasingly popular inside. That is recessed lighting. The lights are sleek and provide plenty of light without taking up any head space. If you want to light up those dark areas under the eaves of your home, recessed lighting is an excellent option explains an electrician. Miami homeowners can shed a little or a lot of light
There are numerous styles and designs to fit your needs. Lighting up the outdoors doesn't have to be boring. It is exciting to give the outside of your home a facelift with just a few well placed lights. You can even add brilliant colors to highlight water features or ornamental trees. The possibilities are truly endless when you leave it in the hands of a qualified Miami electrician. Do some research and see what lights would work best for you. Open your mind and let your imagination take over as you envision all of the possibilities lights can make happen in your yard. Then, call Elcon Electric and schedule your lighting installation so you can enjoy the remaining summer days outdoors in style.