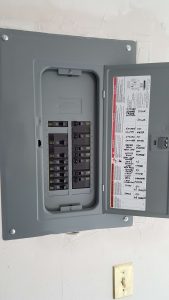 For as long as you can remember, you've probably had no problems with turning on your lights, appliances, or anything electrical in your home or building. Everything works so efficiently, you forget it takes a functional electrical panel to keep your power on.
It comes back to mind the moment you experience a crack in your efficiency, like when the lights flicker and dim or the breaker trips.
The electrical panel can be easy to deal with. All you need is information. In our experience as Deerfield Beach electricians, we know all there is to know about the grey metal box that calls the shots. This is why we can help you solve any electrical panel problems in Deerfield Beach. Read on as we share some of our knowledge.
How the electrical panel works
Power comes from your utility company through the main pain power line and connects to the power meter outside your home. This line continues and is connected directly to the electrical panel. You can discover where your electrical panel is by following where the power line enters your home or simply check dry, undisturbed areas like the garage, basement, or utility room. The electrical panel is a large metal box painted gray.
Within the electrical panel are rows of switches. These switches are called circuit breakers. Some of the switches are doubled or tripled together to serve power demanding appliances like an electric dryer.
The electrical panel in your home functions by regulating the electricity coursing through the home. The circuits in the panel distribute this power and when too much electricity is demanded on a circuit, the circuit breaker trips in the electrical panel to stop the electricity from overloading the wiring. An overload can lead to a fire. This is a default protection setting a functional electrical breaker must have to keep you and your family safe.
On the electrical panel door, you will find a map or list that shows what switches control what appliances or locations. It would also show how many amps a switch carries.
There is a main switch or breaker in the electrical panel that shuts down the power coming in.
Upgrading an Electrical Panel
While an electric panel can easily seem invincible, as your home gets older, electrical demands may increase and overwhelm your electrical panel. Wear and tear can also occur and with a home over 10 years old the electrical may need a panel upgrade. Below is how you know for sure.
Symptoms of Sick Electrical Panels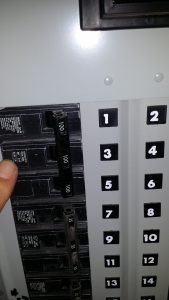 There are signs that let you know something is wrong with your electrical panel. You might notice flickering lights or you might have to turn off an appliance in order to use another plugged into the same circuit. But if the panel is defective, the breakers will trip frequently. You might also notice burning smells, burn marks, or rust within the panel. No matter the signs, be sure to call a professional Deerfield Beach electrician to check and fix your electrical panel problems.
It's possible to be able to diagnose problems with your electric panel even when you're not the expert. At Elcon Electric our experienced electricians give you the tips you need below. Be sure to call on us to fix the problems you've noticed.
Knowing when there is panel trouble
Rather than wait for your electrical panel to act up, you can always schedule regular checkups. If your panel is over 25 years old, a scheduled checkup is vital to help you discover any hidden faults or be assured of your electrical safety.
If the panel troubles have already begun, here are some signs that indicate this –
When you hear crackling sounds from the electrical panel. A healthy panel should hardly make such noticeable sounds.
You've seen corrosion and rust on the circuit breakers in the panel. This would mean that the panel has been exposed to moisture. And as you know, water and electricity don't mix.
The electric panel feels warm inside. This signifies heat and heat can quickly be followed by a fire.
You use too many extension cords. Extension cords are great in certain situations, but not all, and certainly not when you use too many of them. Usually, a lack of outlets can be responsible for this and it's dangerous for your electrical system.
Your home has a 60 – 100 amp electrical service. It's worked before in the past, but now these capacities can hardly serve the average modern home. This puts you at risk of overloading your system. The best solution here is to upgrade your panel service.
The outlets near water sources – such as sinks, tubs, dishwashers, and clothes washers – are not GFCIs (ground fault circuit interrupters). These outlets stop the electricity if an appliance comes into contact with water, preventing electrocution. Not having GFCIs is dangerous and should be rectified by a licensed electrician in Deerfield Beach.
Specific bad panels to avoid
Electrical panels installed after 1990 are generally well designed and safe, but those installed before this time are often known as bad panels. If you find or suspect you have any of the bad panels below, call your trusted Deerfield Beach electrician immediately.
Federal Pacific Electric (FPE) Electrical Panel
FPE panels are probably the most common of bad panels. These panels were largely installed between 1950 and 1980. After a series of investigations, experts discovered the panels were defective with design flaws and components from substandard materials. They often cause house fires and electric shocks.
Next to FPE panels, Zinsco panels were taken off the market in the mid-1970s. The panels contained aluminum parts and were prone to melting parts, shocks, and fire hazards.
Fuse boxes are the oldest type of electrical panels, they are outdated and can only handle between 30-60 amps. They are a huge fire and electrocution risk.
Pushmatic Electrical Panel
These panels have design flaws that make them unsafe. They are hard to reset and non-efficient.
Our Deerfield Beach electricians are always available to help solve your electrical panel problems. Call us for repairs, upgrades, replacements, installations, ad inspections.
Replacing an electric panel is not a decision you make lightly. Given how disruptive and costly the project can be, it's always best to let an electrician in Deerfield Beach inspect your current panel first. You might find that all you need are simple repairs.
When it calls for a replacement
More than ever before, homeowners are taking the home improvement route to renovate their spaces. Adding a new kitchen, room, or bathroom means you will need power in that space. It's not safe to assume your current panel can accommodate it all. It's the same when you are adding new major appliances like heating and air conditioning systems, hot tubs, double ovens, garage door openers, and outdoor lights.
The safe electrical solutions that could come up include new outlets, subpanel, or replacing your current panel with a bigger one.
What is the cost of replacing an electrical panel?
There is no one specific cost for replacing an electrical panel. This is because the cost you get depends on some factors like –
Condition of the worksite – the worksite is your home or building and the condition includes if any current electrical components are bad. For example, faulty wiring or conduits will need to be replaced or fixed before the panel is installed. This increases the regular cost of replacing a panel for your building.
Location – Where are you located? Where is your trusted electrical technician located? Are there rules/permits needed and at what cost? Factors influenced by location affect the cost too.
Electrician –electrician rates differ, and who you hire may determine if you get an affordable cost or not.
Scope of work – Your scope of work may involve replacing a fuse box or Federal Pacific electrical panel with a modern and up to code brand. It may also involve new wiring for the whole home. The scope of work here affects costs.
On average, you can expect the cost to replace an electric panel to be anywhere between $1900 and $5000.
Choosing an upgrade or repair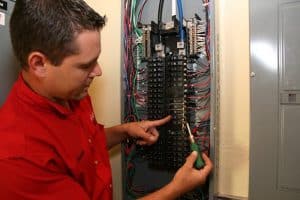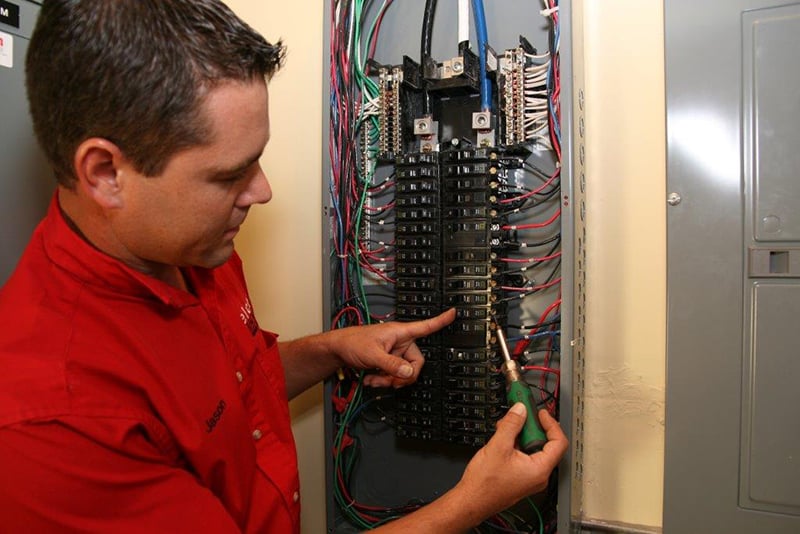 Upgrading your electrical panel in Deerfield Beach is different from repairing the panel. Most property owners don't understand this. Rather than spend a hefty sum on a complete upgrade which is installing new parts, you can simply repair faulty areas. However, repairs cannot be forced. They only work if that is what your breaker needs.
Common electric panel repairs are –
Electric panel relocation to safer areas in the home.
Replacing the circuit breaker, installation, or upgrades
Electrical panel rewiring
Bus bar replacement.