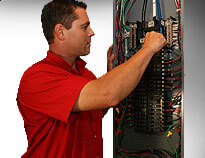 About Electrical Panel Upgrades
The electrical panel is the core of your electrical system. This is where your home receives electricity from the utility company. The power is then distributed throughout your entire home until every outlet and light has the power that it needs. As your home ages, your electrical service panel suffers normal "wear & tear." It is likely that you have upgraded appliances and technology in your home over the past years.
The panel is just like anything else in your home, it needs to be properly maintained. In the event of a fire, the first place an insurance adjuster checks is the panel. If it is not kept up properly, they will attempt to show negligence.
If you think it's time for your service panel to be upgraded or replaced, call Elcon Electric today! An electrical panel upgrade is just what it implies – an upgrade from the existing electrical panel. With today's new appliances and technical devices, we find that older homes and buildings might not have sufficient power available to handle the increased demand. Therefore, a "service change" is required. This includes not only an upgrade in your electrical panel, but an upgrade in your meter socket and wire size between the meter and panel.
The following items should be checked for compliance:
Non-approved breakers for your brand panel
Panels that are older than 5 years
Corrosion
Missing Breakers
Hot Spots
Over sizing of breakers versus wiring size
Check out the Special Report from WPTV on the safety concerns of Federal Pacific Electric circuit breakers.
Electrical Panel Upgrades FAQs
When should I upgrade my electrical panel?
How can I tell if I'm in need of an electrical panel upgrade?
When should I upgrade my electrical panel?
When technology is modernized and panels are not, frequent outages are experienced. Old service panels simply cannot handle all the power now required. Overloaded wires can lead to deadly electrical shock. In order to help prevent this from happening, electrical panels are designed to tell whenever there is a problem with your electricity and cut off power to that circuit. Older electrical panels did this using fuses, while newer panels rely on circuit breakers.
How can I tell if I'm in need of an electrical panel upgrade?
There are two ways to determine if you are in need of a panel upgrade:
You live in a home that is over 20 years old and have outdated panels (Federal Pacific, Challenger and Zinsco/Sylvania, in particular).
If you have (or want) more power requirements.
Electrical panels are NOT supposed to humm, buzz, spark, hiss or become discolored. Our technicians are able to add extra circuit breakers, improve the amperage of your electrical system, and address issues in the safest, most efficient, cost effective way possible.
Electrical Panel Upgrades Reviews
"This is to advise you that we were a long time customer of one of your large competitors. As of today, we plan to utilize your company as needed. Thank you for your services and we look forward to future dealings." – Florida IV Services
Tel: (800) 446-8915
Fax: (954) 867-7139
Monday - Friday
8 am to 5 pm
Your South Florida Electrician Since 1989
Licensed Electrical Contractor, License: #EC0001331

Electrical Panel Upgrades Coupons