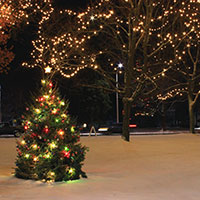 This holiday season is meant to be merry and bright, but not bright because your beautifully decorated tree is on fire! It is important you brush up on your holiday lighting safety tips before you start stringing your real tree with lots of lights that can lead to a fire. Your Ft Lauderdale electrician has some quick tips to help make your holiday decorating a little safer. You can call the team at Elcon Electric if you have any more questions.
*Place your tree at least three feet from any heat source, i.e. space heaters, baseboard heater, vent or a fireplace. As the tree dries out, it will become extremely flammable.
*Keep your tree watered to keep it as green as possible for as long as possible.
*Choose a tree that is freshly cut and the needles are still green. Shake the tree to see if it is dry. If needles sprinkle to the ground, choose another tree.
*Use LED lights if possible. They are more energy efficient and cooler. Twinkle lights put off some heat and can be an ignition source for a very dry tree.
*Do not use any light strands that have broken bulbs or exposed wires. Replace the bulbs if possible. For frayed wires, it is best to toss the strand out. Don't try wrapping it with electrical tape.
*Do not overload an outlet. If you need additional outlets, consider hiring an electrician in Ft Lauderdale to install extra outlets to better suit your needs.
*Do not connect more than three strands of lights. You can overload the circuit or possibly cause the light strands to short out. LED lights can typically handle up to five strands together.
If you have any more questions about how to safely light up your holidays, give Elcon Electric a call today.