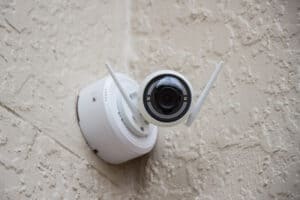 In this age of heightened security awareness, closed-circuit television (CCTV) cameras are a common feature. There are many types of wireless cameras on the market today. Some need access to the internet to function properly, especially if they need to backup data to a dedicated server.
But what if you're in an area where you can't easily access the internet? Does it mean you wouldn't be able to install a wireless camera? Can wireless cameras work without internet connectivity?
Luckily, there are wireless cameras that don't require internet connectivity to work, and today's article is dedicated to discussing this category of CCTV cameras. So what do you need to know about wireless cameras that work without the internet? Read on to find out more.
When Would I Need A Wireless Camera Without Internet?
CCTV cameras that do not require internet connection are also known as IP (Internet Protocol) cameras. They are particularly great for remote locations that have little – or no – access to the internet. Such areas include farms and off-the-grid houses in rural areas and industrial warehouses in urban centers.
If you're skeptical about connecting your wireless cameras to an unprotected Wi-Fi network, then installing a wireless IP camera is your best option for CCTV monitoring.
IP cameras are also a great choice for homeowners who have a limited data plan and don't want their CCTV cameras to use up too much bandwidth.
Why Should I Install A Wireless Camera Without Internet?
Certain unique features of wireless cameras that work without the internet make them very attractive to both homeowners and other security-conscious individuals. These features include:
• Reduced Incidences Of Hacks
Electronic devices connected to the internet have a high risk of getting hacked. Wireless IP cameras are not connected to the internet so their data cannot easily be breached by hackers.
• Access To 24/7 Remote Monitoring
You can view live security footage all day – and all night – long when you connect your wireless IP camera to a monitor. Installing an NVR (Network Video Recorder) also helps link your CCTV cameras to each other without the internet.
• Cost-Effective
It is relatively cheaper to install a wireless IP camera as you would not have to worry about high subscription charges for access to cloud storage facilities. You can store your CCTV footage on-site on SD cards or memory banks.
• Immune To Power Outages
One of the biggest advantages about installing a wireless IP camera is the fact that you do not have to worry about sudden power failures affecting your CCTV footage, especially if you installed a battery-powered wireless camera.
• Readily-Available CCTV Footage Storage
You have easy access to CCTV footage from an installed wireless IP camera with SD – or NVR – storage capabilities.
How Do I Install A Wireless Camera?
Installing wireless CCTV cameras is a task best left for the professionals. Contact Elcon Electric today if you're looking for a certified wireless camera expert near you to install your CCTV system.
Your safety and satisfaction are our topmost priority!