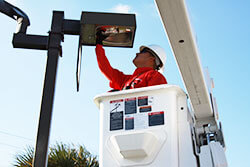 About Security Lighting
Security lighting is one of the most pro-active and effective ways to prevent crime in or around your property. Homeowners and business owners can benefit from a lighting security system that can detect and recognize movement in an otherwise overlooked and dark surrounding. Home security is an important part of being a home owner.
And of course, outdoor lighting makes your yard safer for you, too. A little light makes navigating from your car to your front door a much less risky proposition. Let Elcon Electric show you how an energy-efficient Lutron Lighting Control System can turn lights on and off from your vehicle or interior location, as well as providing motion-sensing security features.
Whether you are looking to showcase your property, highlight focal points or add security with motion detectors and dusk to dawn lighting, call Elcon Electric – we provide and install it all. We can help you through the entire process, starting with designing a lighting scheme. We're familiar with the best brands and models for home or business security and have experience installing all of them.
In short, there is no better choice for all of your security lighting needs than Elcon Electric.
Security Lighting FAQs
Do I need home security lighting?
Is security lighting obstructive?
Do I need home security lighting?
Many homeowners appreciate the convenience and aesthetics of outdoor lighting, but did you know that outdoor lighting is a proven method of deterring some theft and home break-ins? Outdoor lighting can be used as home security systems. Once an outdoor light flips on, most criminals turn tail and run, rather than being seen in the act. A little light is a small investment in the safety of your family and your property.
Is security lighting obstructive?
Security lighting can be seamlessly integrated with a flattering lighting scheme to showcase your landscaping even in the dark of the evening. In fact, wiring security lighting along with an outdoor lighting arrangement is ideal, since it cuts down labor costs for you. We can take care of all your outdoor lighting needs in one shot.
Security Lighting Reviews
"The electrical work that was performed is some of the most precise work I have run across. Good help is hard to find nowadays, and you have a great team!" –
Tom Littler
Tel: (800) 446-8915
Fax: (954) 867-7139
Monday - Friday
8 am to 5 pm
Your South Florida Electrician Since 1989
Licensed Electrical Contractor, License: #EC0001331

Security Lighting Coupons