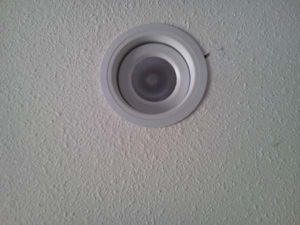 When you are building a new home or thinking about renovating a particular room in the house, you have a lot of choices to make. Everything from the floors, wall colors to the light fixtures can help add personality and style to your personal space. It is about transforming a room or the entire house to better suit your needs while giving it the look you love. One of the latest trends in lighting is recessed lighting or what is sometimes referred to as can lights. They are called can lights because of the cylindrical shape of the housing that slides into the ceiling space. An electrician in Miami, like those at Elcon Electric, can explain the lights in a bit more detail.
One of the reasons the lights are so popular is because of their sleek, modern look. They are flush with the ceiling and often have a pretty chrome ring or a standard white ring that blends right into the ceiling. Modern features can make a home look up to date, even if the home is more than 50 years old explains a Miami electrician. Minor updates can make a huge difference.
Another benefit is the space savings. A typical overhead light is going to eat several inches of head space in the room. A hanging light fixture can actually make a room look smaller, especially if the ceilings are already on the low side. Recessed lighting takes up no space and makes the room look bigger overall. You can also have several recessed lights installed in the room by an electrician. Miami homeowners who want to brighten up their living space will love the difference three to four lights make in the room versus a single light fixture. Give Elcon Electric a call today and schedule your recessed lighting installation.