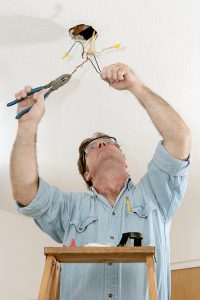 West Palm Beach is a mildly populated city surrounded by water, located in Palm Beach County, Florida in the United States.
Like any other city where people live, they have several contractors to help residents with any service they require. Electrical contractors are one of the important services providers that a city should have. They ensure you can use a reliable and efficient electrical system in the home, office, or industry. Without electrical contractors who are certified and licensed, it is difficult to maintain safety and usability of electrical systems.
Finding a professional electrician can sometimes seem difficult. There are several companies, private contractors, and handymen who claim to be proficient in rendering electrical services. But how do you know the right person to hire? This is important because hiring the wrong person can mean having to spend more money fixing the same problems over and over again, or even larger problems.
Finding an electrician in West Palm County should involve consideration of the following factors:
Cost
This is sometimes a deal breaker. Electrical contractors all have various prices for the services they offer and sometimes this variation can help you make a choice. Bear in mind that using cost as a sole defining factor is not advisable. Higher quotes from the electrical technician do not guarantee his expertise, neither do cheaper quotes. Support your thoughts on the cost with other important considerations
License and Insurance
A professional electrician in West Palm Beach should have a license and insurance. The license tells you that the contractor has practical experience and is well informed to handle most electrical services. The insurance equally saves you from any legal or financial obligations if the contractor gets injured while working in your home.
Recommendations
A recommendation from a friend or a trusted person can go a long way to assisting you in making your choice. They assure you of a positive experience using the contractor's service.
Attitude and communication
Communication and the contractor's attitude have a significant role to play in finding an electrician in West Palm County. Nobody wants to entrust their work to someone who can't communicate effectively or who has a bad attitude. You can judge the electrical contractor's attitude and communication when you speak to them or fix a time for inspection and quote.
Customer care
Every customer loves to be heard and given a good response in return. Is the electrician available to take your questions? Can the electrician do a good job of answering them? These are questions that determine if the customer service of a contractor is great.
Taking recommendations from a friend or colleague leads you to a capable electrician most times. If that doesn't work for you, then you can make an online search or scout the area for electricians in West Palm County.