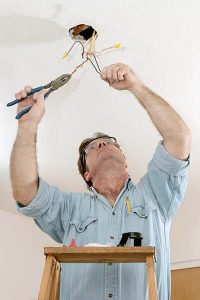 You walk in a room, flip the switch and expect the light to come on. When it doesn't you know you have a problem, but just how serious is it? There are some things you can do to try and pinpoint the problem. In some cases, it is a quick fix you can do on your own. In other cases, you will need to call an electrician. West Palm Beach homeowners can count on the team at Elcon Electric to troubleshoot, identify and repair any problems with their lights.
Some reasons behind a light not working are as follows;
*The bulb is burnt out. Try a new one to see if it works. You may need to pull one from a fixture that you know the bulb is working in.
*The circuit breaker has tripped. Check the electric panel and reset any tripped breakers to see if that solves the problem.
*If it is a lamp—is it plugged in?
*Is the cord damaged or frayed in any way, which could be causing the breaker to trip. If the cord is damaged, it needs to be professionally repaired.
*The switch that controls the power to the light fixture could have shorted out or be faulty. An electrician in West Palm Beach will need to investigate this.
*The light fixture may have become loose and unplugged from the socket inside the housing in the ceiling. Again, this is a problem that will need to be diagnosed by a trained West Palm Beach electrician.
*The light fixture itself may be faulty. It could be loose wires or wires that have fried.
If you can't solve the light problem with the first four troubleshooting steps, you will need to call a professional. You can count on Elcon Electric to quickly fix a problem and get you back up and in the light in no time.