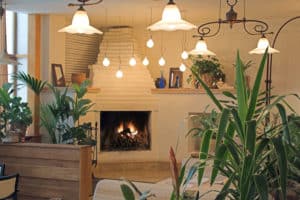 There are lots of things you can do to change the look and feel of a room. You may automatically assume furniture or the color of your walls is the most noticeable. Others may go with flooring. All of these things can make some pretty drastic changes to a room, but you are forgetting one small, often overlooked part of a room—the lighting. A new chandelier is a perfect way to enhance the new décor or make a room look new without changing a thing. An electrician in Fort Lauderdale can help you with your updated look by taking care of the installation. At Elcon Electric, you will find a team of electricians that will meet your high standards.
The installation of a chandelier isn't overly difficult, but it should still be handled by an electrician. Fort Lauderdale homeowners will appreciate the job being handled by a professional who knows exactly what they are doing and will not only get the wiring right, but ensure the fixture is correctly mounted to the ceiling. A chandelier that is loose can become a serious safety hazard.
Chandeliers are not just for the dining room. You can use them to brighten an entryway and really set the tone for the rest of the house. This is a great way to shed plenty of light when you need to see clearly or just dim the lights for those late night returns home. Chandeliers in family room are also becoming more common. Statement light fixtures are an excellent, functional conversational piece. Your Fort Lauderdale electrician can talk with you more about adding a dimmer switch or even a remote control that makes life even easier. Give Elcon Electric a call today to get your new chandelier installed.