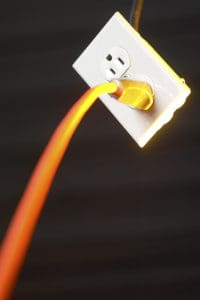 It is that time of year and people all over the neighborhood are pulling out all the stops to make their yard look festive. Halloween is just the beginning of the holiday decorating season. Giant inflatables and a variety of lights and lighted décor are common fixtures in neighborhoods this time of year. Some neighborhoods will even run contests to see who can have the coolest or scariest looking display. That means you are going to be using quite a bit of electricity to run those moving figures and to shine lights on all the work you did well into the night. It is a good time to go over some safe practices for your holiday decorating. A Florida electrician wants you to be safe while putting out your elaborate display. If you have questions about the safety of an electrical practice, give Elcon Electric a call.
1. Don't use any extension cords that are meant for the indoors, outside. Indoor cords are generally flat and only 2 prong. Outdoor extension cords are typically round.
2. Only use decorations that are meant for the outdoors outside. Some decorations are not built to withstand the moisture that comes with being outside and can create an electrical hazard.
3. Read manufacturer's suggestions about how many items can be connected together. Light strands are typically best with only 3 connected. Larger inflatables and other décor will often need to be on it's own outlet.
4. Your electrician in South Florida cautions against connecting more than 2 extension cords together. Have more outlets installed outside around your landscaping if you plan on doing a lot of decorating. It is safer and makes the decorating process much easier.
These electric safety tips will help ensure your home is safe and you are not increasing the risk of a fire or overloading circuits with your festive display. If you need outdoor outlets installed, give Elcon Electric a call today.