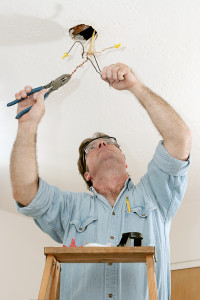 Has your dream of a remodeled kitchen, living room or bathroom finally come to fruition and now you are just organizing the last details? Remodeling your home is such an exciting adventure. It gives you complete freedom to customize your home to suit your needs. It isn't a one-size-fits all. It is your space and it will be designed to accommodate your family and what they need to do in the home. Remodeling is fun, but it also involves a lot of dangerous work. This is why you always want to leave the heavy lifting and technical stuff, like the electrical work, to the professionals. If you are ready to finalize the last details of your home remodel, you need an electrician. West Palm Beach homeowners can count on the staff at Elcon Electric help them bring that dream of a new space into a reality.
Any remodel that involves tearing down walls or adding new fixtures is going to run into some electrical needs. Because wiring in the home is something that should never be left to someone who hasn't been trained, you will need to rely on an electrician in West Palm Beach. In fact, the permit you obtain from the county will likely require the work to be done by a licensed professional to ensure it passes inspection.
When you are looking for the right West Palm Beach electrician, give them an interview. Make sure the team you hire will complete the job to your high standards in a reasonable amount of time. Your home remodel project shouldn't be something that turns into a nightmare. Hiring professional contractors with good reputations will ensure your remodel is ready for all of the holiday entertaining you have planned this season. Give Elcon Electric a call today and schedule your remodel consultation.