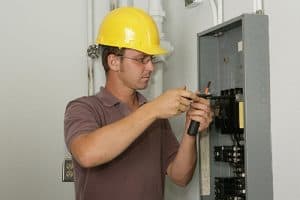 Homes that were built several decades ago hold a certain appeal. They have a great deal of character and are often sought after by homeowners. People love the nostalgic look and feel of the homes that were built in the fifties and sixties, but they don't always love the lack of electricity available. This is a common scenario all across the country. People love the historic value of a home, but also want it to have some of the perks of today's world, which includes plenty of electrical outlets to run the many appliances and devices we use today. Of course, they also want to make sure the home's existing wiring is safe. An electrician in Fort Lauderdale can help you merge the best of both worlds. The team at Elcon Electric is ready to help you transform your vintage home into one that suits today's high demand for electricity.
You can still enjoy the old features of your vintage home, while adding a few more outlets that will allow you to run things like your smart TV, computers and every appliance you could possibly want in the kitchen. In order to give you the outlets, you will likely need an electric panel upgrade. This is a job for a Fort Lauderdale electrician. The new panel will bring more electricity from the pole outside to your home. Instead of dealing with limited amps, you will have more than enough to live like a modern person in your vintage home.
There is a certain excitement to living in old homes, but you still need modern day appliances. The homes built several decades ago were just not meant to run everything we use today, which is why any home built before 1965 or so, will likely need a panel upgrade by an electrician. Fort Lauderdale homeowners who are unsure about what their current electric panel is capable of can give Elcon Electric a call for an inspection.