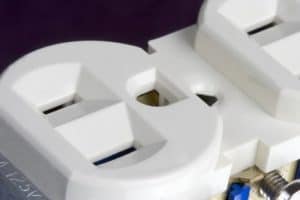 Do you ever get tired of searching for an available outlet to plug your cell phone or laptop into? It can be a pain to try to figure out what you can unplug to make room for what you need in the moment. What if you need several devices at once, but only have enough outlets for two? Using extension cords and outlet taps isn't always the best long-term solution. You need something better and safer. A West Palm Beach electrician has the answer. You need more outlets! The professional electricians at Elcon Electric can help you solve your outlet shortage problem.
Having additional outlets installed is a pretty simple solution that can be handled by an electrician in West Palm Beach. Older homes were typically not built with today's electrical demands in mind. Today, we use a lot of electricity and have a lot of gadgets. Home entertainment systems alone can require several outlets to operate. A single outlet on each wall is no longer enough. You need several, especially in rooms where you do plan on spending a lot of time. If you have a home office or just want to use your computer in combination with a printer, you need several outlets.
Before you can schedule outlet installations, you will need to have a quick electric panel inspection completed by an electrician. West Palm Beach homeowners need to have the available breakers to run the additional outlets. In most cases this isn't going to be an issue if you are just having a couple additional outlets installed. If you need a lot more, you may need a panel upgrade. You don't have to worry about trying to figure that out. Just give Elcon Electric a call and they will evaluate your current electrical situation and make suggestions on how it can be improved.