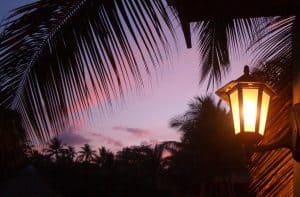 It's a great time to think about your outdoor lighting for the coming spring and summer months when you will be spending a lot more time outdoors. Outdoor lighting enhances the overall look of your home while making it a little safer for you and your guests. It can also deter would-be criminals in many cases. These are a few tips to help guide you when you think about your outdoor lighting needs this summer. Once you are ready to have your existing lights upgraded or new ones installed by a Fort Lauderdale electrician, give Elcon Electric a call.
*Electric lights are better than solar for a number of reasons. You will have more flexibility when it comes to placement because they won't require sunlight to operate at night. Electric lights tend to be brighter as well.
*It is a good idea to use lights that have protective shields to protect them from the elements and accidental breakage. These shields also allow the light to be directed. Pathway lights have shields above to direct the light down to the ground.
*Choose your lights carefully explains an electrician. Fort Lauderdale homeowners don't want a bright light just below or above their bedroom window. The lights should be chosen based on their placement. Soft lights that light up the ground are best for pathways and hedge areas near the house.
*LED lighting options are a bit more expensive to purchase, but the cost savings is going to make it worth it. LEDs use a fraction of the energy and tend to be brighter.
*Avoid using too many lights that crowd an area and make it uncomfortable to be in or even look at.
Once you have come up with your chosen landscape lighting scheme, call your electrician in Fort Lauderdale. Elcon Electric is standing by and ready to help you get ready for summer.