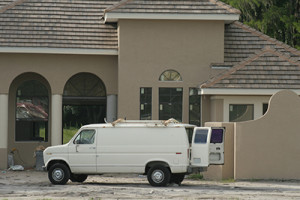 Muggy weather has a way of bringing out the bugs and making life outdoors pretty miserable. You may have been looking forward to getting outside after being cooped up in an office all day only to discover your outdoor patio is not a pleasant place to be. Sitting on your patio should be a relaxing experience, not one that is filled with swatting bugs or using a newspaper to fan yourself. Fortunately, an electrician in Miami can help you combat the bugs and help keep you a little more comfortable with the installation of an outdoor fan. The team at Elcon Electric is here to help you make your summer evenings on the patio a little more comfortable.
An outdoor ceiling fan is designed to withstand the weather, even the harsh Florida weather. The electrical components are sealed away in a weather-proof box to keep the fan from shorting out in the weather. The blades of the fans are made with durable material meant to withstand the elements as well. There are a ton of designs in outdoor fans. You are sure to find one that suits your particular style and needs. A Miami electrician will need to complete the installation process.
It is important you choose the right fan for your patio. Some fans are built to be last even if they are exposed to the wind and rain, while other outdoor fans are built for the outdoors, but only if they are somewhat protected by a roof. There are also fans meant to be used in areas where salty, sea air could be an issue. Once you have chosen your fan, call your electrician. Miami homeowners will soon be able to sit outside with a cool breeze and very few bugs invading their patio space once their ceiling fan is up and running. Give Elcon Electric a call today and schedule your installation.