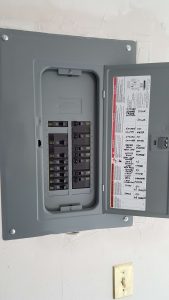 The electrical panel is the heart of your home's electrical system and when it can't function properly, neither can your home.
A panel upgrade in Miami can become necessary for any number of reasons. We will explore what a Miami panel upgrade is and when or why you need it.
How your electrical panel works
Your electrical panel is the big metal gray box in the garage, utility room, closet or basement. Most homeowners find the electrical panel confusing and have very little knowledge of how it works.
What you need to know is, this big gray box is connected to the main power line from your utility company and it supplies the power that comes in to every area of your home with an electric connection. The rows of switches you see in the electrical panel represent the various circuit breakers that distribute power.
Switches that look double or tripled are the circuits connected to power-demanding appliances in the home. The numbers on the switches also represent how many amps they carry. You will also find the main breaker switch that can turn the entire power system in your home off/on. Homeowners try to familiarize with this switch in case of breaker trips or when they need to shut off the power.
How do you know your electrical panel has problems?
In Miami, there's lots of fun to be had and most homes and buildings require power for several devices or purposes. When your electrical panel has served for many years, its normal for them to grow old and reduce in efficiency. You may notice flickering lights, dimming lights, corrosion and rust on the circuit breakers, crackling sounds from the panel, warmth, less power to appliances, and so on.
Sometimes, wear isn't the only reason for electrical panel problems. Overloaded circuits can also lead to panel failure or problems. Other signs of a defective panel or one in need of upgrade include;
Appliances run on less than full power
Using too many extension cords
You live in an old home of 25-40 years old
Your panel is a 60 amp – 100 amp service
You have outlets near water sources that are not grounded with GFCIs
You are using any of these types of defective panels – Federal Pacific
Electric panels, Zinsco electric panels, Pushmatic electric panel, or Fuse boxes.
What is involved in a Miami panel upgrade?
A professional electrician will start by inspecting your current electrical panel and determining if an upgrade is necessary. They will provide an estimated cost for the project, obtain needed permits, and complete the upgrade. If any other repairs or wiring needs are relevant to the project, they will do that as well.
After the entire panel upgrade is complete, the electrician will have the installation inspected.
The benefits of a Miami panel upgrade
Despite the significant cost of having Miami panel upgrades, there are equally significant benefits to be enjoyed;
Peace of mind
Safety
Efficient and reliable system
More circuits
Credit from your insurance company