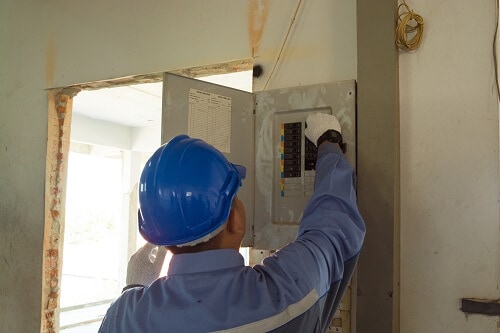 Finding an electrician near you doesn't have to be a hard task. Whether you're looking to have electrical done for a new construction project or just need to have some repair does in your home, you need to find the best electrician. Remember that when dealing with your electrical system, you need to find someone who is competent enough to not blow things up. Choosing the right electrician for your job is the most important aspect of that job. Fortunately, there are ways to find the best electrician near you.
When searching for an electrician you have to make sure they are properly licensed, insured, and bonded. Many states require the electrician to obtain a license before performing any electrical work. This tells the homeowner that they have passed tests and have obtained enough experience to perform the work needed to be done.
There are many jobs electrician specialize in, finding the correct one for your job is important. Commercial and residential jobs differ greatly and sometimes electricians prefer to work on one or the other. It's important to ask what your electrician specializes in before hiring them to do your job. Just ask your electrician questions about your job and if they have ever done a job like that before. If they have, great – move on to the next vetting process. If not, it might be best to find a different electrician.
Finding the right electrician might be as easy as asking a friend or family member. When electricians do such a great job you want to recommend them to your friends or family, these might be the best electricians around. Ask around to see if anyone in your circle has had a good experience with an electrician and see if you can get their contact information.
Another group to ask are other contractors. If you have had any other work done in your home – painting, plumbing, etc – see if these contractors know of any electricians. They might be able to recommend people from their work circle.
Be sure to check out online resources as well. Directory listings are a great place to look to get a couple electricians to contact. Other websites, such as Yelp, Angie's List, and even Google, can show you the electricians reviews left by real people such as yourself. Read the reviews to see if that electrician is a good fit.
Once you have all your resources and a couple choices set, start contacting those electricians to see who is the best fit for your electrical project. A little work in finding the best electrician can pay off in the end when your job is completed professionally and correctly.
Elcon Electric of South Florida has been providing homeowners and businesses alike with expert electrical services for over 25 Years. We've built a company of highly experienced, certified electricians to serve your electrical needs.