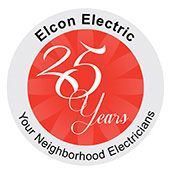 Have an electrical emergency or project you need completed in Coral Springs? Call Elcon Electric, the electrician you can trust! For over 30 years, residents in the Coral Springs area have been calling Elcon Electric for all the electrical needs. Go ahead and take a look at our reviews to know that you're in good hands.
Our company was built with a foundation of highly experienced, certified electricians local to the area. We know that there is a lot of competition for Coral Springs electricians which is why we let our policies win you over. Our goal is to treat our customers the way we would want to be treated. This has gotten us a great reputation and we are super grateful for all of our customers.
When getting ready for your next electrical project, be sure to give us a call for quality work and honest prices!
When you are experiencing issues in your home, you need to have someone on speed dial to count on. We want to get you back up and running as quickly as possible. Our team is local to the area so we can get someone out to your home fast.
It doesn't matter if you want to rewire your entire home or just change out a light fixure, we can make it happen. We are proud to offer:
Knowledgeable electricians who pride themselves in doing the job right
Dependable job scheduling and prompt response time
Friendly, courteous electrical service with spotless clean up
[divider]
Services Offered by Our Electricians in Coral Springs
Ceiling Fan Installation
Chandelier Installation
Electric Car Charger
Electric Wiring and Repair
Electrical Panel Upgrades
Home Safety Inspection
Kitchen Remodeling
Landscape Lighting
Lighting Repair/Installation
Lighting Retrofits
Lightning/Surge Protection
Parking Lot Light Repair
Security Lighting
Service Changes/Upgrades
Outlet Repair & Installation
[divider]
Free Electrical Help
Just need some advice on how to get things working again? Check out our free tips page for more information. If you can't find your issue, just give us a call and we can help! You can also call or email us to get a free estimate on what your job may end up costing if we did the work for you.
Our Coral Springs Handy-Dandy Guide
[divider]
Fast Facts about Coral Springs, FL